Principia Consulting has been tracking the impact of the restrictions on new construction over the past four weeks, starting March 25, 2020 to provide coverage of the impact of COVID-19 on residential construction activity. The first Stay-at-Home (SAH) orders as a result of COVID-19 were imposed on March 17, 2020 in northern California, and other state governments followed with SAH and Shelter-in-Place (SIP) orders. These restrictions continued to roll out from state to state at varying levels of what was considered essential business. The SAH and SIP restrictions have resulted in certain types of construction being non-exempt.
Comparative View of SAH and SIP State Restrictions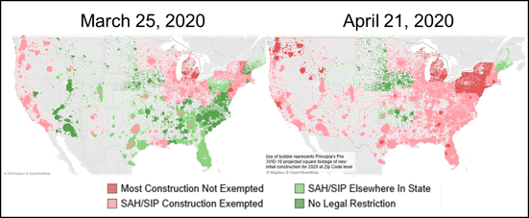 The United States was projected to build 2.7 billion square feet of new residential construction in 2020 prior to the impact of COVID-19. A complete review of the ordinances enacted to date shows the impact on construction activity by geography and the potential influence on building product demand and distribution. A few major takeaways include:
4% of projected construction activity in municipalities not currently under any legal restriction
14% of projected activity in municipalities that currently are prohibiting most forms of construction
23% of multifamily activity falls within localities currently prohibiting most construction
Most affected areas are currently along the Pacific Coast, North Atlantic Coast, and Great Lakes regions. Very few unaffected municipalities remain.
Principia's COVID-19 coverage provides a detailed understanding of how the restrictions were rolled out and eventually being lifted over time. Numerous states including Georgia and Michigan are lifting restrictions effective April 30, 2020. Our updated analysis to be released on May 5, 2020 will provide a national view of the adjustments of these restrictions as the state economies begin to open back up.
Learn more about Principia's COVID-19 coverage here.