Principia tracks $72 billion of residential revenue sold in selected building product categories (roofing, siding, exterior trim, windows, doors, decking, railing, and insulation) through the lumber and building materials (LBM) channel in 2019. Remodeling and repair represented $46 billion (over 64%) of channel revenues, with new construction accounting for the balance.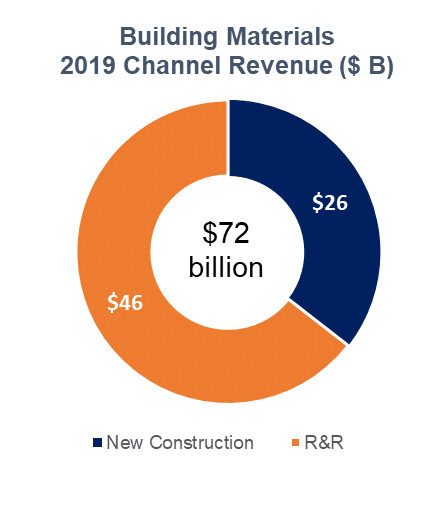 As part of our ongoing COVID-19 coverage, Principia's analyst team has been speaking with distributors and dealers serving these product categories and residential construction markets about how they are responding to the crisis.
What We're Hearing
It comes as no surprise amid the uncertainty of the impact on building material demand, production, and distribution that the main theme of what we're hearing is that companies are closely monitoring the situation, which is "rapidly changing" and "volatile." Having taken quick action in response to the need for safety, companies are bracing for the economic shock from an expected decrease in demand.
Distributors
Distributors are open for business, with most states also deeming them essential.
With few exceptions, distributors are not experiencing material shortages. Product exceptions include cleaning supplies, personal protection equipment , and selected products imported from China like fasteners and metal parts and components.
Focusing on inventories and receivables. Distributors are staying in touch with their dealer customers and watching their accounts receivables and destocking efforts at the same time they are watching their own accounts receivables and inventory levels.
Deliveries are proceeding apace. Distributors have heard from suppliers their continued commitment to deliver product. Some distributors have heard from dealers that they would like to push April deliveries to May. If this activity is widespread, distributor inventory levels will start rising, leading to a pullback on orders from suppliers.
Areas with higher concentrations of COVID-19 cases are reporting more disruptions. Like their dealer customers, distributors overexposed to a state where construction has not been exempted are faring less well than their counterparts. In the map below, distributor and dealer locations are superimposed on the state by state case counts with red indicating a high concentration of cases reported, yellow moderate, and green lower.
Dealers
Dealers are open for business, with most states deeming them essential, and positioning to stay in business through the pandemic.
Most have made changes to operate safely. Some have reduced store hours or limited the number of people entering the building at one time. More rely heavily on "order online – pick up in-store" and provide curbside pickup for contractors and homeowners.
Dealers in affected areas are encountering more challenges. Small dealers with exposure to states where construction has not been exempted from stay-at-home restrictions are faring worse than those in other states. Large dealers with a national or regional exposure are seeing reduced orders but not as severe.
With an eye toward inventory management. Dealers continue to watch inventory levels and, to conserve cash, are slowing restocking of slow-moving products.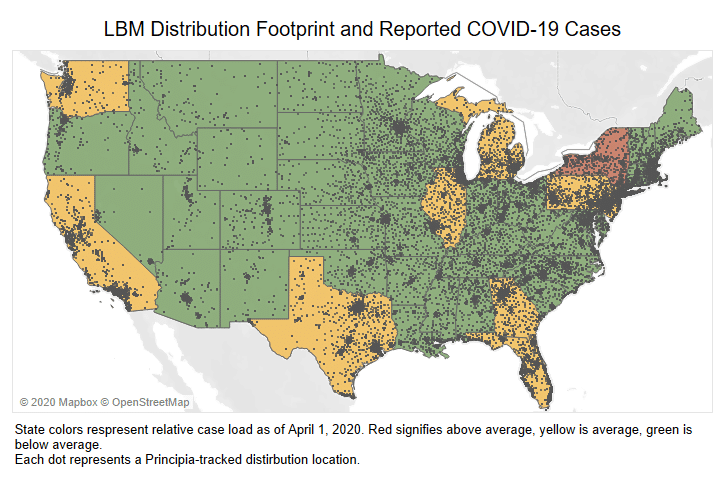 Read our previous COVID-19 bulletins about the impact on residential new construction, impact on residential building product demand and  scenario analysis impact on new construction activity.

For more information about subscribing to our COVID-19 coverage, click here.