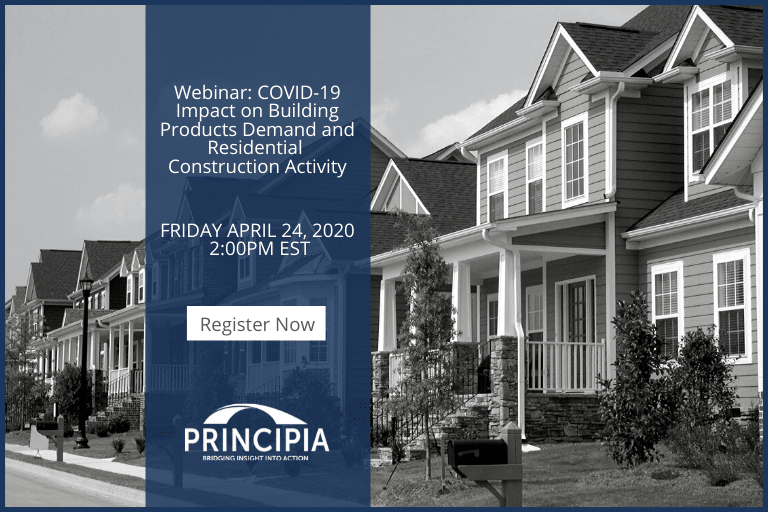 Overview:
The building and construction industry is being impacted by the COVID-19 pandemic along with every other industry. However, our industry is impacted to a different degree depending on the specific geography, building product type and supply chain participant. Principia has been tracking the effect the virus has had on the industry and updating the information several times a week based on changes in Stay at Home/ Shelter in Place orders, exemptions for construction, seasonality and other factors.
What You'll Learn:
Our webinar will provide updates on the level of projected building and construction activity in 2020 and the effect on building products demand and the supply chain.
Quantify overall impact on residential new construction and repair and remodel activity
Identify which areas of the country likely more or less affected
Assess enforcement rate of ordinance restrictions on construction activity
Determine impact on demand for selected building products covered by Principia
Principia is pleased to present an ongoing webinar series to help manage through the current market environment, each featuring 45 minute conversation with our leadership team and industry analysts along with a 15 minute open Q&A.
Who Should Attend:
All industry participants can benefit from this timely webinar.
Product manufacturers
Distributors and dealers
Homebuilders
Developers
Contractors
Realty firms
Insurance companies
Financial firms
When:
Friday April 24, 2020
2:00pm Eastern