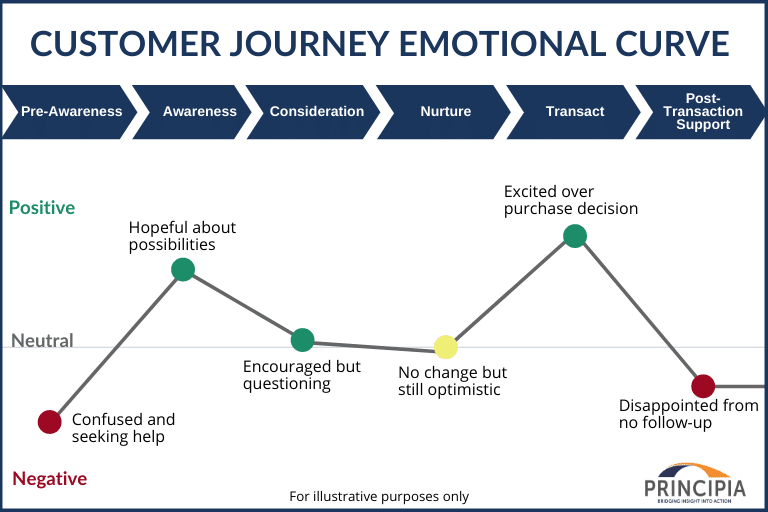 Customer journey mapping can help you gain a competitive advantage by examining how each participant in the decision-making process is influenced by the interactions with suppliers. Armed with this knowledge, you are better equipped to develop tactical go-to-market plans to gain share and grow your business.
Changes in behavior and buying preferences in a post-COVID-19 market are forcing building products suppliers to reexamine how they interact directly or indirectly with all parts of the value chain, from architects and builders to distributors and dealers to contractors and installers and finally property owners. Mapping the customer journey allows marketers and sellers to distinguish how each participant in the chain has different needs and expectations, from pre-awareness to post-transaction. These differences can be grouped for customer type to identify potential alternatives and opportunities to win in the market.
Examining the emotional curve of the customer journey becomes the next critical layer of insight into the interactions taking place. One part of assessing these interactions requires measuring the highs and lows of the experience throughout the buying process, from pre-awareness to post-transaction. A simple red light-green light measure easily depicts the level of emotional engagement at each step of the journey and signals where there is another opportunity to manage the overall customer experience for every customer persona.
The steps of the buying process can be easily identified for any product category or market. Who are the key influencers and decision makers and what is their role and in the value chain? It is important to determine what degree of influence each participant has in driving the decision or materials or services used. But what challenges does each customer type face in the process of selecting product and ultimately brand? What is the best way to interact with each type of customer throughout the buying process?
A detailed understanding of the key interaction points with customers provides insight into the journey, leading to building a differentiated go-to-market strategy. Customers typically encounter pain points when investigating, sourcing, purchasing, installing, or using the product. Customer personas can be created based on their behaviors and reaction to such questions, as follows:
How does the customer buy and how do they manage relationships? What is the role of digital today vs. 3 months ago before COVID-19?
What activities occur presale, through the transaction, and after the sale? Over what time frame?
What expectations does the customer have of its sources throughout each step in the journey, and to what degree are they being met?
How do your customers want to work with you? What types of contact are preferred and how often?
What is an ideal customer experience that delivers a clear and distinct advantage over your competition?
What can customer journey mapping do for your business? We have successfully supported building products companies who been able to translate the results into actions leading to:
Defined hierarchy of customer needs and expectations
Detailed customer segmentation
Improved sales processes and internal alignment
Lower customer turnover or churn
Increased customer acquisition
Stronger loyalty through greater customer advocacy
For more information or specific guidance regarding how we can assist with customer journey mapping for your business, please contact us at 610-363-7815 or info@principiaconsulting.com.