The Build-to-Rent (BTR) construction model is where single family home communities are built with the sole purpose of renting rather than selling the homes. The BTR model operates like a professionally-managed multifamily asset with shared upscale amenities and high security. BTR differs from multifamily in that each unit is a detached single family unit or townhome. This growing segment of the single family rental sector represented 6% or 15 million single family homes built in 2020.1 Build-to-rent communities are operating or under construction in 30 states. These communities offer privacy, luxury, security, and maintenance-free living.
Why is it growing?
Demand for single family rental units was growing before 2020 but sharply accelerated when multifamily living became less attractive during the pandemic. New home scarcity and price inflation has pushed ownership beyond the means of many U.S households at the very time that new households are forming. As a result, BTR has become a viable option for those seeking a "starter home" and are unwilling to wait for entry-level supply to catch up with demand. BTRs also offer professionals and retirees the flexibility to move without being tied to a homesite. Competition for single family rentals in 2021 is driving rents skyward – up 6.6% year-over-year according to CoreLogic2.
Which builders are participating?
Major single family for-sale builders are entering the BTR category, often partnering with a BTR builder or funding partner. Toll Brothers was an early investor in BB Living, a BTR builder. Taylor Morrison partnered with Christopher Todd, another BTR builder. Lennar launched Upward America Venture with equity commitments from Centerbridge and Allianz Real Estate. The attractiveness of the segment has even drawn student housing developer Landmark Properties into single-family rental homes. For-sale builders and BTR builders are competing for land in sunbelt states. Lennar and other major for-sale builders with major holdings of lots and land will be able to develop BTR units faster than start-ups.
How the growing popularity of BTR may affect product demand
Principia anticipates BTR could drive demand for several building product categories including:
Privacy fencing, which offers enhanced privacy as distance from neighbors in BTR communities is scarce
Keyless entry systems, which help increase security. BTR neighborhoods experience more move-ins and move-outs than neighborhoods where the majority of homes are owned.
Durable, low-maintenance interior and exterior products, which withstand rental traffic while delivering a high-end feel. Examples include wood plank luxury vinyl tile, quartz countertops, cellular PVC exterior trim, masonry veneer siding, high-end fixtures and finishing, and concrete tile roofing
Hardscaping, xeriscaping, and artificial turf to reduce landscape maintenance
High-quality interior lighting to compensate for reduced window to wall ratios
Larger profile gypsum wallboard to accommodate 10-foot ceiling heights, designed to deliver a sense of spaciousness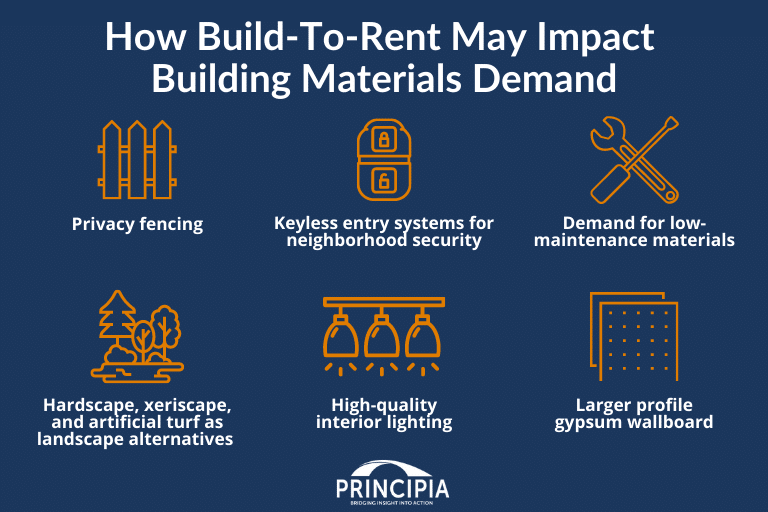 BTR is expected to drive building product demand in the sunbelt states such as Arizona, Nevada, Texas, Georgia, North Carolina, and Florida. The sunbelt states have lower land costs which is attractive to BTR builders.
What does BTR mean for suppliers of building materials? Although single-family BTR is a small slice of the pie, it is the fastest-growing segment of the U.S. rental market. Suppliers with builder programs should evaluate expanding their programs if not already to target BTR builders.
Contact Principia Consulting to learn more about building trends in 2021 and how they may affect product demand.
---
1 RCLCO Real Estate Advisors
2 Strong Economic Growth and Fierce Competition in For-Sale Housing Pushes Up Single-Family Rents," July 20, 2021, CoreLogic