What would make your company switch from your preferred manufacturer of siding to another brand?
Nearly 70% of siding contractors have not changed their preferred siding brand in the last two years, according to recent Principia research. Preferred brand refers to contractors' first choice among the top two or three brands they typically offer to homeowners. But almost all contractors surveyed indicate some willingness to switch their preferred siding brand.
The top three reasons contractors would switch their preferred brand include a better product, customer driven demand, and a better warranty.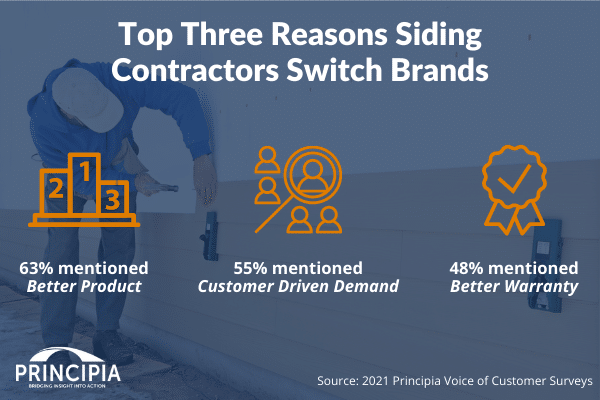 Better Product. When contractors talk about "a better siding product," the request for products with improved moisture resistance comes up frequently. Contractors also want products that are fast and easy to install as well as products that address customer needs such as low maintenance. In general, contractors express a desire for more product innovation in the siding industry to address these needs.
Customer Driven Demand. Demand driven by homeowners is another reason contractors would switch preferred brands. If a customer asks for a specific brand, contractors will provide it if they can, and if enough customers ask for a brand, contractors will switch to that product as their lead brand.
Better Warranty. A long term or comprehensive warranty program can be a key decision factor for homeowners in their product selection process. Contractors use warranty to help homeowners compare products, demonstrate durability, and provide peace of mind.
Manufacturers who continue to evaluate how to improve their products, better understand homeowners' perceptions of their brand to drive customer demand, and offer strong warranty programs have an opportunity to help influence contractors' willingness to switch their preferred brands. Siding contractors report using their preferred brand on 58% of projects, so it's critical for manufacturers to keep contractors satisfied and not have them switch to another brand.
Principia offers custom consulting capabilities to map the customer journey or assess supplier performance against the needs and expectations of builders, contractors, and homeowners and identify areas of competitive advantage. Contact us for more information today.