Labor challenges represent 18% of contractor comments from Principia's recent roofing contractor survey. Labor-related issues include training workers, finding skilled labor, and improving efficiency. Principia's 2021 survey findings contrast previous research conducted with roofing contractors where labor issues represented 6% of contractor comments in 2016 and only 2% of contractor comments in 2017. Recent labor constraints, exacerbated by COVID-19, are forcing roofers to extend timelines and even turn jobs down.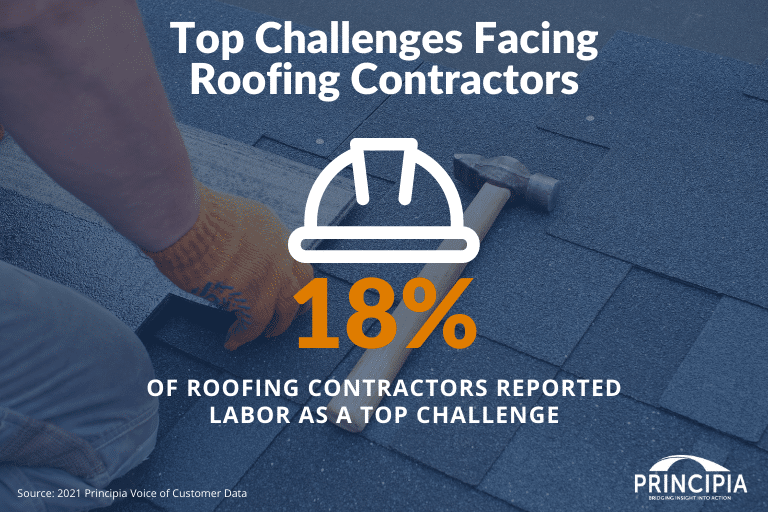 Manufacturers and industry associations are working to support roofing contractors to help alleviate the labor challenges impacting their businesses through several initiatives listed here.
Training and certification

Suppliers have developed tools to advance training in the industry. Select examples include GAF Care, Owens Corning University, and CertainTeed Credentialed Education. National Roofing Contractors Association (NRCA) offers training across multiple steep and low slope roofing materials. NCRA, in partnership with the National Center for Construction Education & Research (NCCER), produced the second edition of NCCER's Roofing Level 1 curriculum. Strong evidence exists that roofing crews that are well-trained and supported tend to experience less turnover.

Skilled worker recruitment

NRCA developed an online career center five years ago and more recently launched a job bank for members. Both National Women in Roofing and RoofersCoffeeShop offer job boards to connect roofing companies with workers across the industry.

Tools to improve efficiency

Manufacturers like GAF have created e-tools like GAF QuickMeasure, MyRoof, and SmartMoney to improve the efficiency of contractor teams. Specialty one-steppers have also created tools to speed estimation, improve the ordering process, and support targeted sales efforts. Web-based tools available to contractors from specialty one-steppers include myABCsupply, SRS Roof Hub (with interactive storm maps), and Beacon 3D and Pro+.

Easier product installation

Product offerings such as wider rolls of underlayment, broader nailing zones, and simpler exposed and concealed fastening systems for metal roofs help speed up job completion and get crews off roofs faster.
Labor is among the top three challenges cited by contractors in 2021. Learn more about the other challenges and how manufacturers and distributors are responding here.
Principia's extensive voice of customer research informs our syndicated BuilderSeries® supply-demand products and is also a cornerstone of our custom consulting services. Contact us for more information on our syndicated data products and full range of custom consulting capabilities.