Principia's latest research with roofing contractors revealed 15% of contractor challenges mentioned in 2021 were related to pricing, compared to less than 1% in 2016 and 2017 from previous research. Manufacturers of asphalt shingles have raised prices four times in 2021, over a 20% increase from 2020 if all price hikes hold for the full price increase. Although metal suppliers have announced fewer price increases in 2021 compared to asphalt shingle suppliers, price increases have been more significant still totaling over a 20% increase. Concrete tile suppliers have also raised prices in 2021 at approximately 10% to 12% over 2020 prices.
Although higher price points are passed to homeowners, contractors have competition in their peripheral vision. Contractors are aware of homeowner sensitivity to price and a willingness to select a competitor's lower price quote. Nevertheless, contractors need to protect their bottom line and are quoting jobs more carefully to limit exposure to price increases.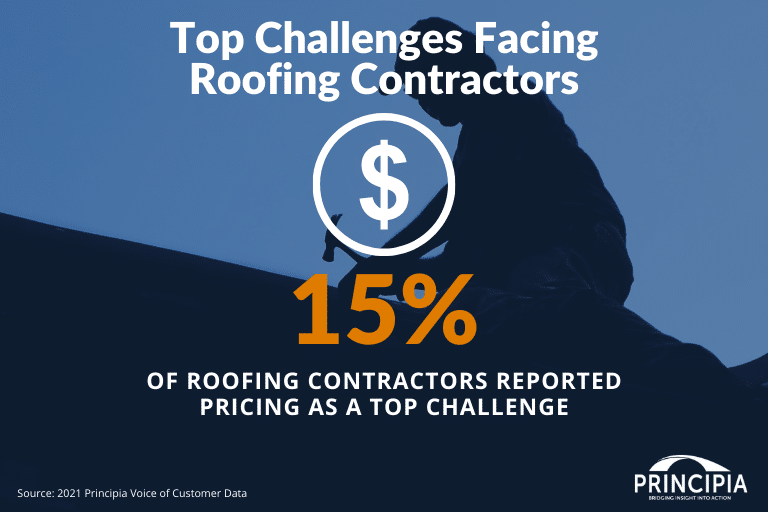 While manufacturers may be forced to raise prices to narrow price-cost gaps, they help downstream channel partners and builder/ contractor customers by giving the channel as much advance notice as possible before a price increase takes effect.
Pricing is among the top three challenges cited by contractors in 2021. Learn more about the other challenges and how manufacturers and distributors are responding here.
Principia's extensive voice of customer research informs our syndicated BuilderSeries® supply-demand products and is also a cornerstone of our custom consulting services. Contact us for more information on our syndicated data products and full range of custom consulting capabilities.