Product-related challenges represent 18% of contractor comments from Principia's recent roofing contractor survey. These concerns center around well-recognized issues related to performance, product variety, and sustainability.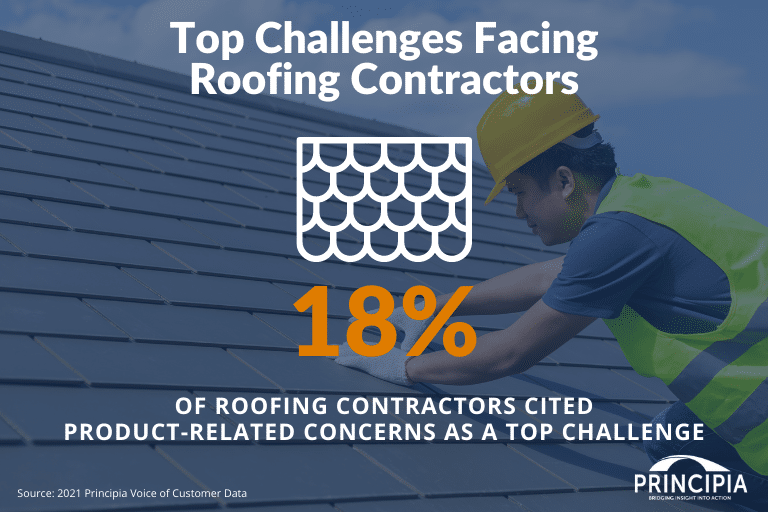 Performance

Adhesion and sealing challenges were mentioned multiple times by roofing contractors, as call-backs for poor adhesion is a major pain point. Contactors stressed the need for greater durability, resiliency, and longevity, including improved wind ratings and ice guard protection. Contractors also voiced a need for products that speed installation. Contractors place a premium on speed of installation in the face of severe labor shortages. Learn more about labor challenges here.

Variety

Contractors seek broader product selection which includes more color options. However, manufacturers are faced with difficulty to provide a broader selection when recent supply shortages have forced short-term SKU rationalization. Contractors also suggested offering products at different price points to meet a variety of homeowner needs, particularly during this current period of rising prices.

Sustainability

Contractor comments related to sustainability span several aspects of roofing's impact on the environment. Many contractors mentioned the need for more energy-efficient products (e.g., solar, green, cool roofing) while others suggested higher recycled content to reduce post-consumer roofing in landfills.
Suppliers have an opportunity to address the product-related challenges and help alleviate frustration through education and training. For example, adhesion and sealing issues can often be caused by contractors installing asphalt shingles when temperatures are too low. Much of these product failures could be resolved through proper training. Education and training on solar, green, and cool roofing could help contractors offer a broader assortment of product options to homeowners. Expanded brand awareness being made by manufacturers to address sustainability through recycled product alternatives and recycling technologies could inform contractors on a more environmentally friendly approach to roofing.
Product-related issues are among the top three challenges cited by contractors in 2021. Learn more about the other challenges and how manufacturers and distributors are responding here.
Principia's extensive voice of customer research informs our syndicated BuilderSeries® supply-demand products and is also a cornerstone of our custom consulting services. Contact us for more information on our syndicated data products and full range of custom consulting capabilities.