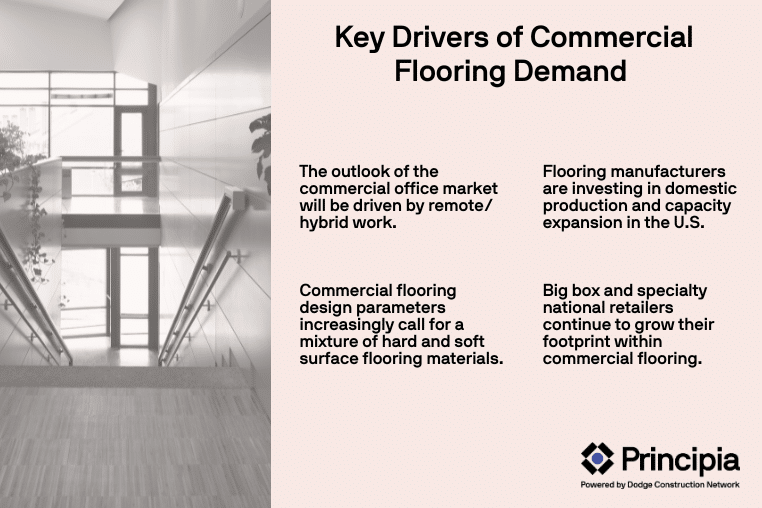 Commercial Flooring Demand Through 2025
Featuring in-depth data and insights backed by primary research – now available in PDF, Excel and our interactive portal.
Commercial flooring demand decreased from 10.2 billion square feet valued at $13.4 billion in 2021 to 9.9 billion square feet valued at $14.3 billion in 2022, a decline of 2.4% by volume but a 7% increase by value. The increase in product value was driven by average net sales prices that rose 10% in 2022. Higher sales prices were driven by persistent inflation that occurred throughout 2022.
Key factors influencing commercial flooring demand:
The outlook of the commercial office market will be driven by remote/hybrid work. The office market is the largest commercial building type in terms of addressable square footage. Many remodeling projects in the office market are currently on hold as property owners evaluate post pandemic work preferences. Vacancy rates are high with many office leases and loans scheduled to come due in the next 2-3 years. This could drive significant property turnover and demand for repair and replacement to accommodate future focused hybrid office layouts.
Flooring manufacturers are investing in domestic production and capacity expansion in the U.S. Onshore manufacturing has been gaining momentum to help alleviate supply chain pressures. High tariff rates on flooring products imported from China continue to propel interest in domestic manufacturing. Domestic production allows manufacturers to better scale product innovation efforts as well as offer better customer service to the end user.
Commercial flooring design parameters increasingly call for a mixture of hard and soft surface flooring materials. Mixed flooring balances the desire for sound abatement while creating a space that possess an increased home-like feel. This growing trend is a headwind for soft surface volumes.
Big box and specialty national retailers continue to grow their footprint within commercial flooring. Any market share gains made by these retailers has the potential to contribute to an increase in hard surface sales. Most specialty national retailers are focused on hard surface flooring materials and do not readily offer carpet products. This is another developing headwind for soft surface volumes.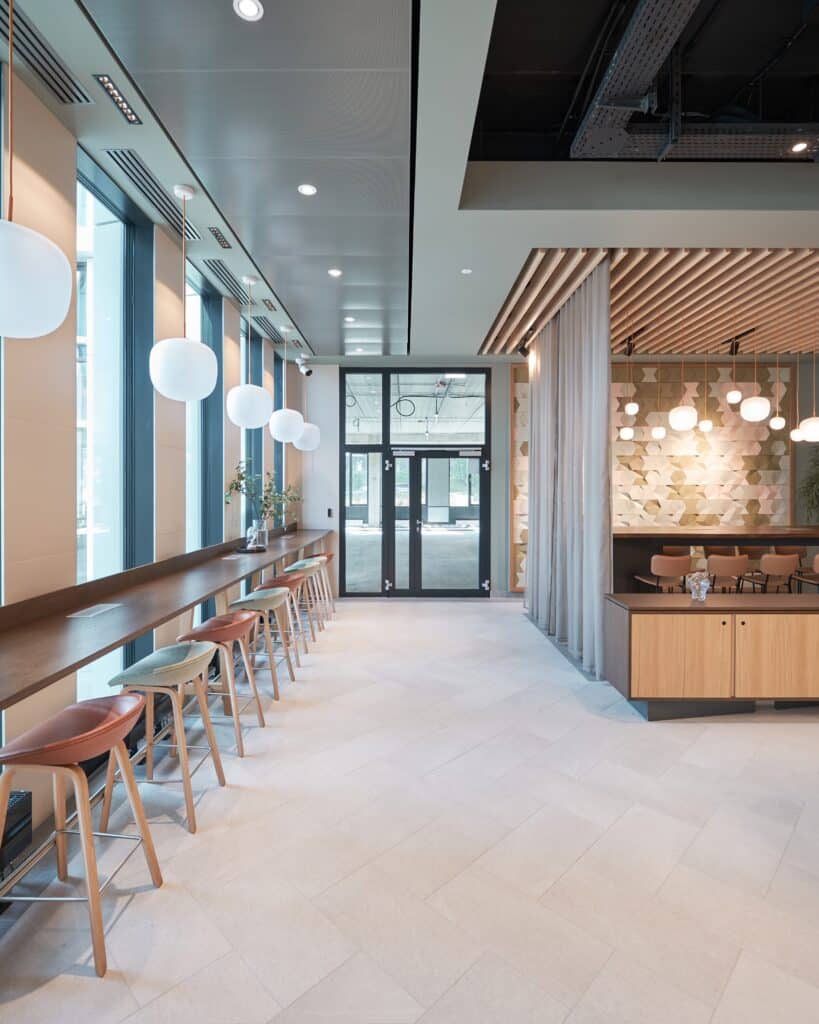 Repair and Remodeling Activity will Steer Commercial Flooring Demand
In 2022, over 90% of commercial flooring demand was from repair and remodeling (R&R) projects. R&R demand is forecast to be mostly flat by volume in 2023, with elevated levels of growth in 2024 and 2025 as the economy returns to a growth pattern. Development in retail, hospitality, and office R&R is expected as these sectors transition to align with post COVID trends. These include hybrid/remote work, greater preference for outdoor spaces, and better in-store retail experiences.
Significant Conversion of Broadloom Carpet to Other Flooring Materials is Expected
Our estimates suggest that 500 million square feet of commercial flooring space will be converted from broadloom carpet to other flooring materials through 2025. This represents about 4-5% of the total available commercial flooring square footage in any one year. Flexible and Rigid Luxury Vinyl Tile (LVT) have seen double-digit year-over-year growth for the past 5-10 years. Our analysis projects LVT to be one of the main flooring materials that will continue to benefit from conversion of broadloom carpet to other materials.
Southwest and Southeast Regions Had Best Volume Performance in 2022
These regions outperformed the rest of the country due to strong project growth within the office, retail, and education sectors. The Southeast region has experienced a consistent 6% growth rate in retail square footage, which is double the growth as compared to other regions of the country. Growth in the Southeast region is expected to remain strong driven by significant population growth and continued business investment in states such as Florida, Georgia, and North Carolina.
Learn more about Principia's commercial flooring market demand data today. For a full demo of our interactive portal or to inquire about the cost to purchase data please email sales@principiaconsulting.com.