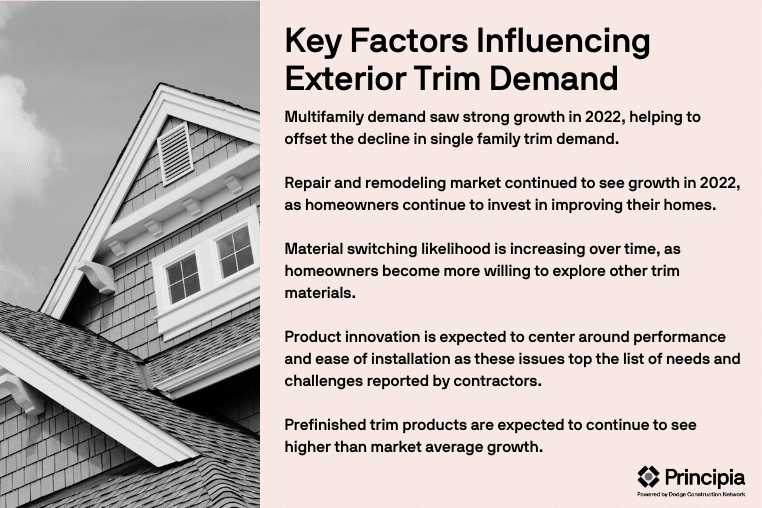 What Is Driving Exterior Trim Demand?
Featuring in-depth data and insights backed by primary research – now available in PDF, Excel and our interactive portal.
United States residential exterior trim demand experienced modest growth in 2022, increasing from 2,378 million linear feet valued at $3.5 billion in 2021 to 2,423 million linear feet valued at $3.8 billion in 2022, a growth rate of 1.9% by volume and 9.8% by value.
Factors influencing demand for exterior trim include:
Multifamily demand saw strong growth in 2022. Multifamily new construction starts were up 20% in 2022, driven in part by increasing rents and low vacancies. Multifamily new construction trim demand grew 19% in 2022, helping to offset the decline in single family trim demand. The Northeast and Southwest (predominantly Texas) saw the strongest multifamily new construction growth.
Repair and remodeling market continued to see growth in 2022. Homeowners continued to invest in repair and remodeling projects, influenced by the trend of Americans spending more time at home, record high home equity, and the decision to stay in existing homes with low locked-in mortgage rates.
Switching likelihood is increasing over time. Homeowners have become more willing to switch trim materials over time, which makes product substitution and share shifts more likely.
Product innovation will influence product shares. Product innovation is expected to center around performance and ease of installation as these issues top the list of needs and challenges reported by contractors. Better performing and easier to install trim products should benefit and hasten the conversion from wood trim products to higher performance materials. Homeowners express a preference for low maintenance/ higher performance trim products. Emerging materials such as high recycled content products appeal to sustainability-minded homeowners.
Prefinished trim products are expected to continue to see higher than market average growth. This value-add service will contribute more to market value growth as manufacturers continue to add prefinishing capacity and extend color options. Margin pool analysis reveals that most of the profits earned from prefinishing still accrue to the channel rather than manufacturer. This will encourage more participation by manufacturers to capture those profits instead of relinquishing them to the channel.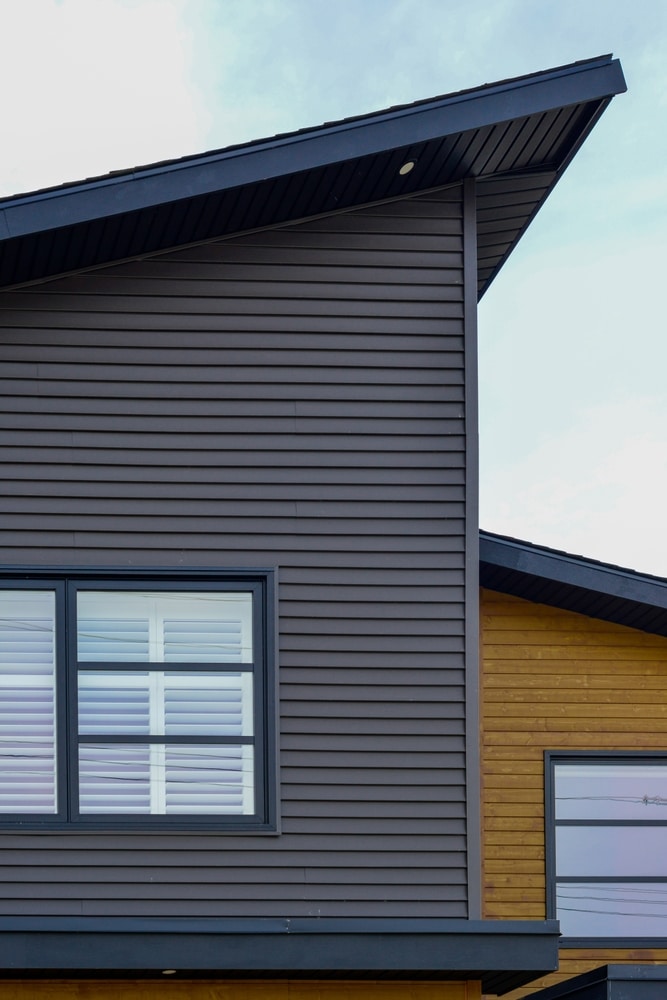 Exterior Trim Demand Through 2025
Exterior trim demand is projected to increase slightly from 2.4 billion linear feet valued at $3.6 billion in 2022 to 2.5 billion linear feet valued at $3.9 billion in 2025. Single family demand will fuel the market through 2025 as heightened multifamily growth subsides; the single family market generates over three-quarters of trim demand.
Wood Continues to Hold Largest Share of Trim Volume
Wood will continue to account for the largest share of total trim volume; however, wood volume share is expected to fall from 36% in 2021 to 35% in 2025, losing share to cellular PVC, engineered wood, and fiber cement as homeowners continue to convert to durable, low maintenance products.
Learn more about DemandBuilder® Exterior Trim today. For a full demo of our interactive portal or to inquire about the cost to purchase data please email sales@principiaconsulting.com.