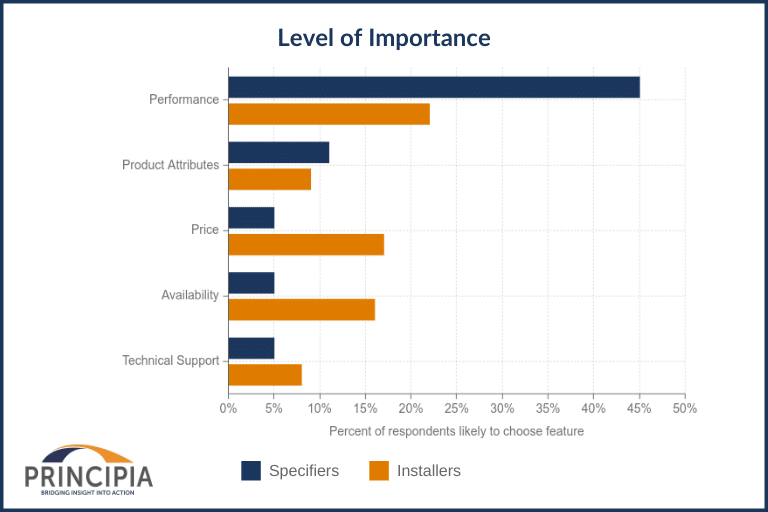 How you position your product and service offerings with each customer type is critical to market success. A well-defined product strategy begins with aligning product needs with the real drivers of a purchase decision. Consider how you would tackle this effort.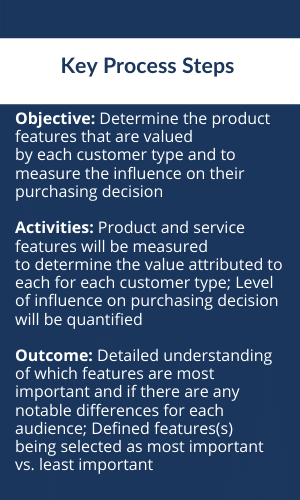 Several approaches are available to determine how to position a product or service with each target audience. Maximum Differential Analysis (MaxDiff) utilizes a forced choice survey methodology that asks the participant to pick a "most important" and "least important" option from a list of 5 product or service features. Depending on the number of features to be measured, each respondent will make their selections from 10 to 15 individual choice sets. This approach differs from more traditional attribute measurement designs where participants are asked to rate an entire list of attributes on a scale (not at all important, somewhat unimportant, neutral, etc.)
MaxDiff methodology is generally considered to be superior when understanding the relative value of features considered to answer questions such as:
Which product and service features are most important to the participants?
What is the implied share of preference for a given feature?
Which features are least impactful?
MaxDiff is further aided by sample segmentation which can help highlight additional insights and patterns in behavior based on demographics or firmographics.
Highlighted Case Study: Siding Product Introduction
Situation: A major siding product company sought to identify the likely conversion rate for a new product offering among siding installers and homeowners and determine whether this would translate into desired sales levels over a two-year period before making a significant capital investment for this new product family.
Approach: Principia developed a program to determine the demand curves for the new siding product. In a large-scale quantitative study, a MaxDiff scaling methodology was utilized to generate importance or preference scores for multiple attributes among each audience. In addition, supplier and channel checks were conducted to identify how to best gain traction with distribution partners to support the new product line.
Outcome: Program results provided the client with a better understanding of the value offered by the new products and likelihood to meet the target plan, as well as who are the target customers and their likeliness to convert. The new product platform improved overall margins by 3% through a lower cost structure and resulted in a 2% market share gain as well.
Learn more about our Product Positioning services here.