How you reach and serve customers, while managing your resources, is a delicate balancing act. A well-defined go-to-market strategy ensures that distribution channels are developed and managed to meet customer needs effectively and efficiently. Five key steps can form the roadmap to assessing whether your current market-facing strategy is aligned with the market for profitable share growth.
Assess current channels to market considering revenues and margins through each channel
Analyze sales performance of current channels (and distribution partners) using existing metrics
Evaluate channel approaches to determine how well matched with customer's buying journey
Develop alternative approaches to accelerate revenue growth aligned with target markets
Align sales and marketing teams to support each customer strategy and measure performance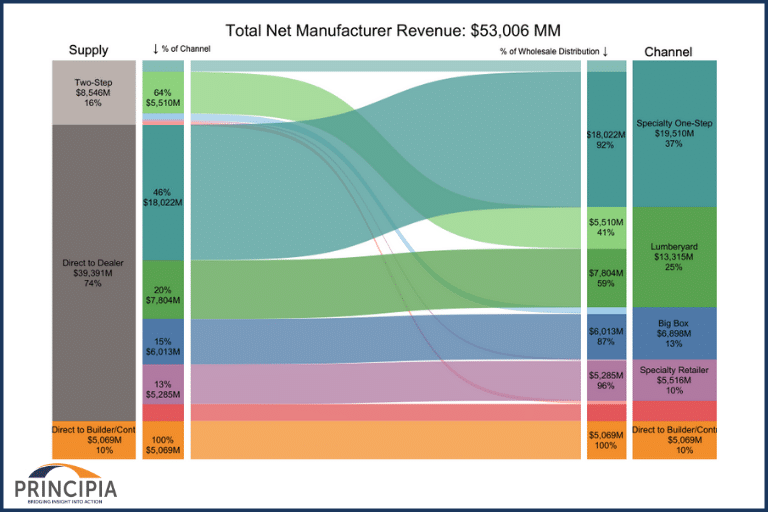 Highlighted Case Study: Redefining Strategy to Serve in Two-Step Distribution
Situation: A leading building products company was underperforming in properly serving its two-step distributors. The company had lost 5 share points over a three-year period.
Approach: Principia helped define channel needs within a few key categories served by conducting 500 phone surveys and in-depth interviews with company's distributors and its trade customers. Areas of need and specific opportunities for improvement were identified. An improved service point model was developed to better serve the channel. Principia recommended expanding value-added services to the portfolio and reorganize resources to serve two-step distributors more effectively in multiple regions in the United States.
Outcome: The client gained a better understanding of serving the market, including demand patterns and customer requirements. Ultimately, the client recovered 3 share points and improved EBIT by 10% within 18 months in this important market channel.
Learn more about our Go-To-Market Strategy services here.