Companies often struggle with knowing the 'size of the prize' in their served markets. All know what they sell to existing customers but how big is the total market for their products? A quantified view of product demand around each location helps define the current level of market coverage and identify new growth opportunities. An analysis of each served market can discern which locations are currently constrained as well as which areas are best positioned for growth, and where best to allocate resources.
How can companies determine how best to manage existing served markets and identify new areas to serve?Principia has worked with many of lumber and building products (LBM) distributors and dealers over the years and this sales dilemma is often found. Based on our experience, we have developed LBM DistributionBuilder to support growing sales through a range of benefits summarized below:
Determine current market share for each location, region, or operating company
Calibrate market size within a set radius from each location with several distance options
Identify new opportunities for growth by geography, product, or forecast demand
Establish the true addressable market opportunity within your geographic reach
Define competitive distributors and dealers within your regions
Target potential new distributor partnerships
Compile lists of potential acquisition targets for continued growth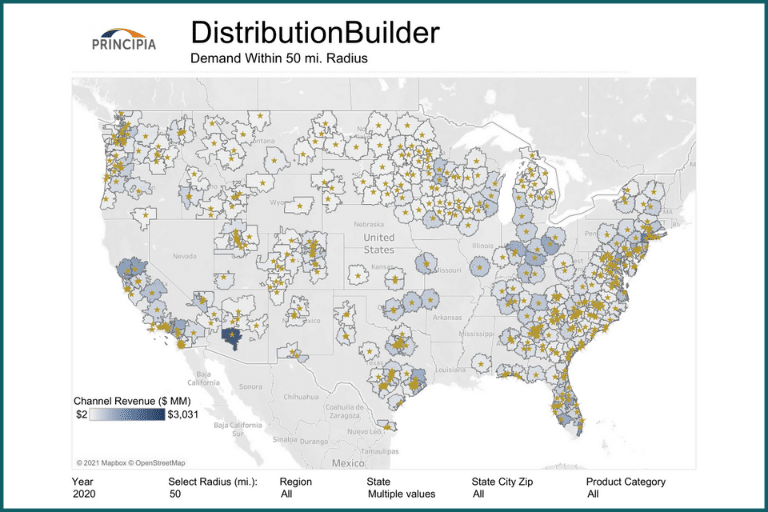 LBM DistributionBuilder enables users to evaluate served market share and identify new opportunities for growth. Users can customize views and analyze demand for residential building materials in local markets and manage market share for each location, region, or operating company.
For more information, contact us today or email us at info@principiaconsulting.com.