In the Northeast, new construction housing starts declined by 35% in single family and 57% in multifamily from July 2020 to July 2021, according to recent Census data. Total starts in the United States increased 2.5% during this same period, with multifamily declining by 16% and single family increasing by 12%. Housing starts in the Midwest declined by 11% in same period, while starts grew at 5.2% and 24% in the South and West respectively.
The decline in multifamily starts in the Northeast is especially impactful as it makes up a larger share of the region's total permits at 36% compared to 27% for all other regions.
Figure 1: Percent Difference in Housing Starts from July 2021 to July 2020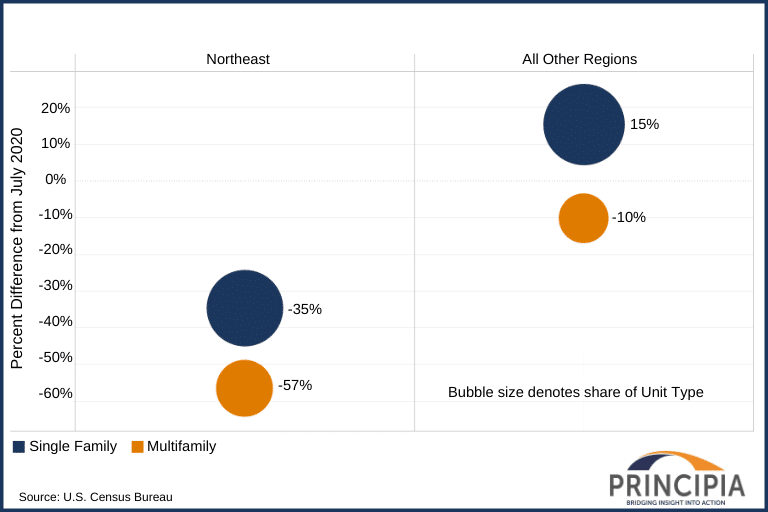 The U.S. Census reports housing units authorized by building permits, housing starts, and housing units authorized but not yet started. In July 2021, approximately 25,000 units had been authorized but not started in the Northeast compared to a historical average of 16,000. As shown in Figure 2, there was an increase of 9% from June 2021 and 92% over July 2020. Much of the increase is from the multifamily sector which has increased 117% since July 2020.
The growing gulf between units authorized and units started indicates homebuilders are pacing starts of authorized units in 2021. This dramatic increase in the backlog of homes being built throughout 2021 is a result of increased material costs, delays in material delivery, and lack of contractor availability. These effects will only be exacerbated heading into the fall and winter as cold weather hampers residential construction.
Figure 2: Housing Units Authorized but Not Started in the Northeast, July 2020 to July 2021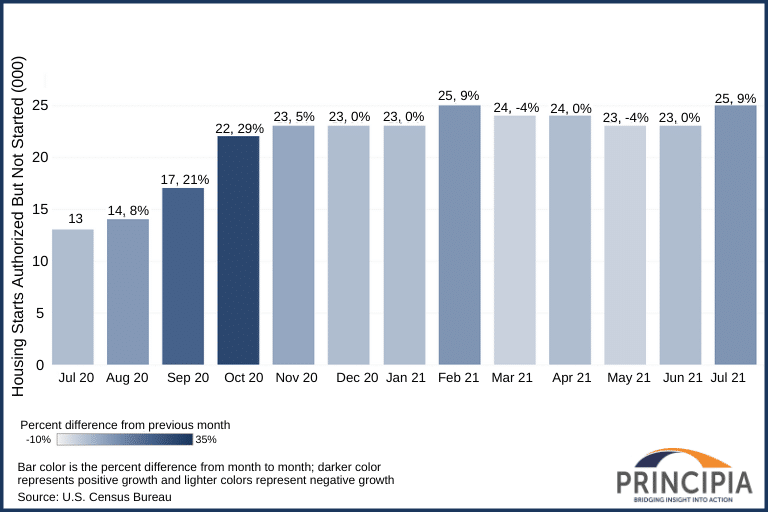 Principia conducts a wide range of secondary research to support its original data and insights, including macroeconomic data, such as home sales, put-in-place spending, and new residential construction starts. Principia updates macroeconomic data regularly and publishes the data for subscribers in an online, interactive dashboard format. Contact us today to learn more.