There may forever be disagreement about how big a role climate change plays in destructive weather patterns, but there's little ambiguity when it comes to their upsurge. The global average wind speed has increased 6% (from 7 mph to 7.4 mph) over the past decade, this according to a 2019 study published in the journal Nature Climate Change. Further, last year marked the sixth consecutive year of an above-average number of hurricanes.
Not only have hurricanes become more common, but more of them are also expected to reach Categories 4 and 5, putting many window manufacturers in the eye of the storm. Currently, about one in 10 of national residential window volume derives from the highest wind speed zones (about six-million units per year), which are often found in hurricane-heavy Southern or Coastal markets. These windows are required by code to be impact resistant.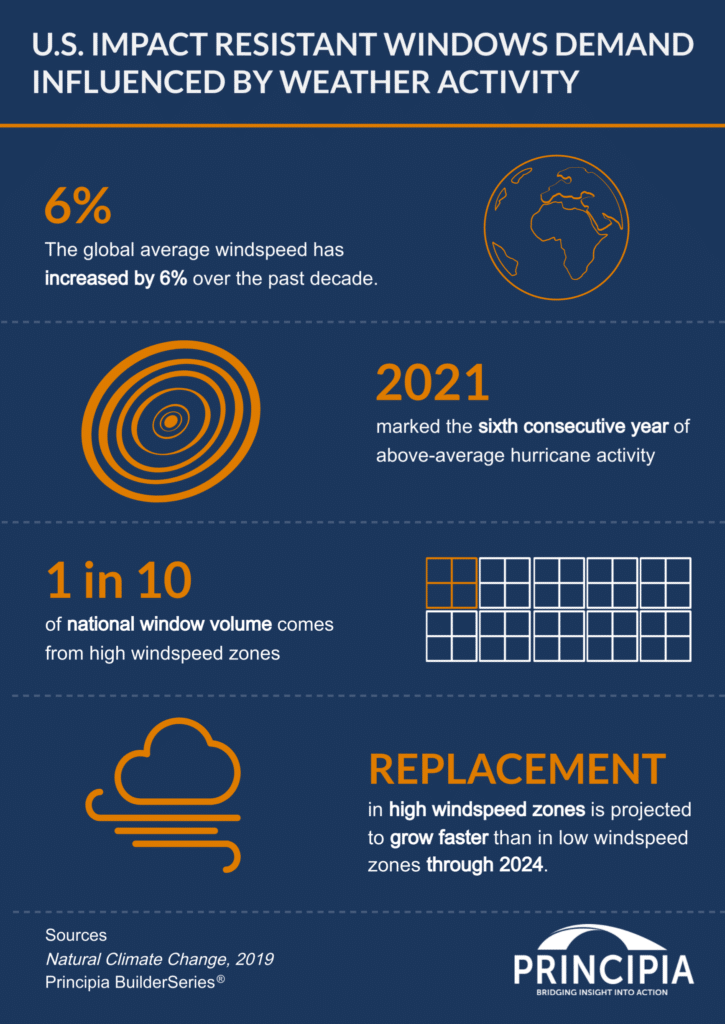 Many of these aforementioned areas have seen huge population spikes in only the last year; in fact, among the top-10 states Americans chose to migrate to in 2021, six are in the South and/or rub up against the Atlantic Coast, this according to a 2022 United Van Lines study. This means not only are Southern and Coastal areas becoming greater targets for natural disasters, but more Americans are placing themselves in harm's way.
It should come as little surprise that window replacement demand in high-wind speed zones will grow faster through 2024 than in low wind speed zones (8% HWSZ vs. 6% LWSZ) as weather events become more severe and Americans' Southern and Coastal migration continues. What's more, Principia 2021 homeowner research shows homeowners replace their windows sooner if they live in high-wind speed zones and are more likely to have them replaced for weather reasons.
Given the increase of new homeowners in Southern and Coastal markets and an expectation of violent weather events, it's tacit that impact resistant windows will become more the rule than the exception in residences located in high-wind speed zones, much like many San Francisco high-rises feature base isolators that allow the buildings to sway but remain upright in the event of an earthquake. Therefore, it's incumbent upon window manufacturers to at least explore the potential of new window offerings that may further help control damage caused by high winds and give vulnerable homeowners peace of mind.
Principia's expertise in this vertical can help window manufacturers understand the competitive landscape, and whether it's worthwhile to entertain design, testing costs and additional SKUs in a market that may or may not be oversaturated with impact-resistant offerings. There is an answer and, to paraphrase the great Bob Dylan, it's blowin' in the wind.