There are generally two reasons why homeowners make changes to their homes. It's either based on need or want. Homeowners need to repair roofs to prevent water damage and reduce energy costs. They want to replace kitchen countertops because the old ones have become eyesores. There are, of course, reasons beyond aesthetics why a homeowner might choose new countertops, but there's no denying how they look is as—if not more—important than how long they last.
According to Principia's 2021 Homeowner Survey data, nearly half of respondents (47%) would incorporate a change in their most recent countertop purchase, particularly regarding the material and color, with nearly all (91%) agreeing that aesthetics is an important factor when making a countertop decision.
Why? The kitchen is the home's centerpiece. It earns the most foot traffic, is synonymous with style, and is the de facto pulse of the residence. A 2017 report commissioned by Realtor.com revealed that the kitchen is the most important room to consider when shopping for a home, earning a top-3 mention among 80% of respondents; a distant second is the primary bedroom at 49%.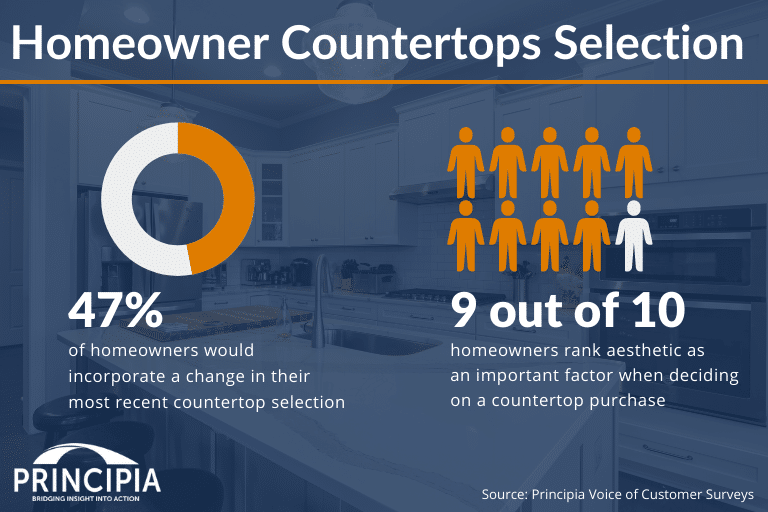 The kitchen is so important to homeowners that those considering remodeling their kitchens are willing to go over budget on countertops as long as the selection meets the functional needs and enhances the overall design and style of the room, according to data from a February 2022 Kitchen & Bath Design News Survey.
The kitchen isn't a room that homeowners are willing to skimp on, so it's crucial that countertop manufacturers continue to evolve their online visualization tools and range of color/design options. These tools can help to not only deliver customers the best material/aesthetics for their project but help to decrease the feeling of discontentment with their choices after installation. The same goes for cost estimators, which are table stakes for most projects. It's worth considering a new value-added selling feature to a website or seller's toolbox that provides an estimate of how much choosing a certain type of countertop material would increase the value of the home to help manage those who may suffer from sticker shock.
Ensuring that manufacturers have the right value proposition around their design elements of residential countertops is imperative in a competitive and changing fashion-forward market. Countertop manufacturers wanting room to grow sales with consumer-driven colors, patterns, and styles can rely on Principia with a proven track record of optimizing brands' positioning and exploring new approaches to help drive conversion.