Featuring in-depth data and insights backed by primary research — now available in PDF, Excel and our interactive portal.
U.S. residential countertops demand flourished in 2021 on the strength of new construction demand and robust repair and remodeling (R&R) activity. Underlying market conditions have weakened in 2022 but remain favorable for modest growth in the countertops market through 2024.
Key factors that will support countertop market demand through 2024 include:
Buying and selling of a home typically triggers kitchen and master bath remodeling and upgrades as they are the most important rooms to potential home buyers
A willingness for homeowners to invest in superior functionality and overall aesthetic
The kitchen becoming a marquee living space, both aesthetically and for comfortability
Countertop manufacturers are increasingly focused on diversifying their sources of raw materials and expanding production/import capabilities to maintain sufficient inventory levels and keep pace with demand.
Leading growth products in the residential countertops market include quartz and laminate.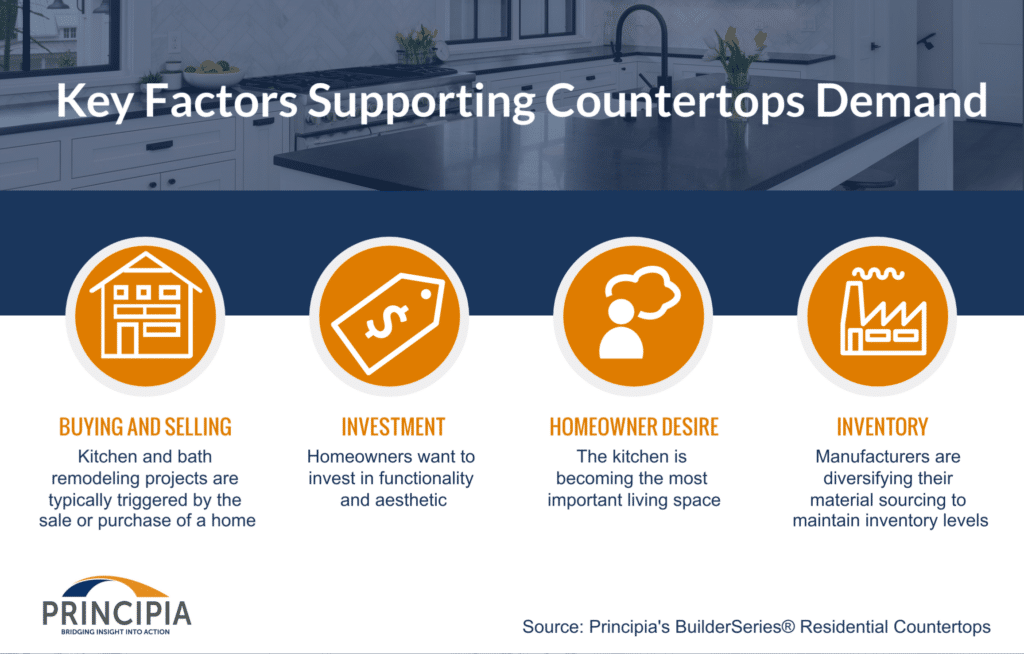 Countertops volume totaled more than 411 million square feet in 2021 with quartz and laminate as the leading growth products. The largest product group natural stone is expected to grow 5.2% through 2024.
Kitchen share is projected to increase while bathroom's share is forecast to fall.
R&R activity will continue to ascend over the next three years, which will help give kitchen demand an edge over bathroom demand. Kitchens generally consume more square footage per home and will require additional surface space to accommodate food preparation, dining and/or entertainment. Countertops demand in kitchens and bathrooms are projected to demonstrate a similarly modest growth rate in the new construction market. Separately, both kitchen and bathroom demand are projected to be largely driven by repair and remodeling activity, growing 6.6% and 5.8% by volume through 2024, respectively.
Repair and remodeling market will drive demand growth.
Residential countertops demand growth through 2024 will be driven by the repair and remodeling market, which is expected to see 6.3% annual growth compared to low single digit growth in the new construction market. The market is decelerating from the boom of 2020–2021, in large part to the reduction in new construction demand through 2024.
Download the table of contents and list of figures for the written portion of our countertop demand product line up. For a full demo of our interactive portal or to inquire about the cost to purchase data please email sales@principiaconsulting.com.