Featuring in-depth data and insights backed by primary research – available in PDF, Excel and our interactive portal.
Demand for U.S. residential flooring earned a noticeable uptick behind strong new construction demand and robust repair and remodeling (R&R) activity in 2021. Underlying market conditions have weakened in 2022 but remain favorable for modest growth in the flooring marketing through 2024. Overall year-over-year flooring demand grew from 14.2 billion square feet in 2020 to 15.9 billion square feet in 2021.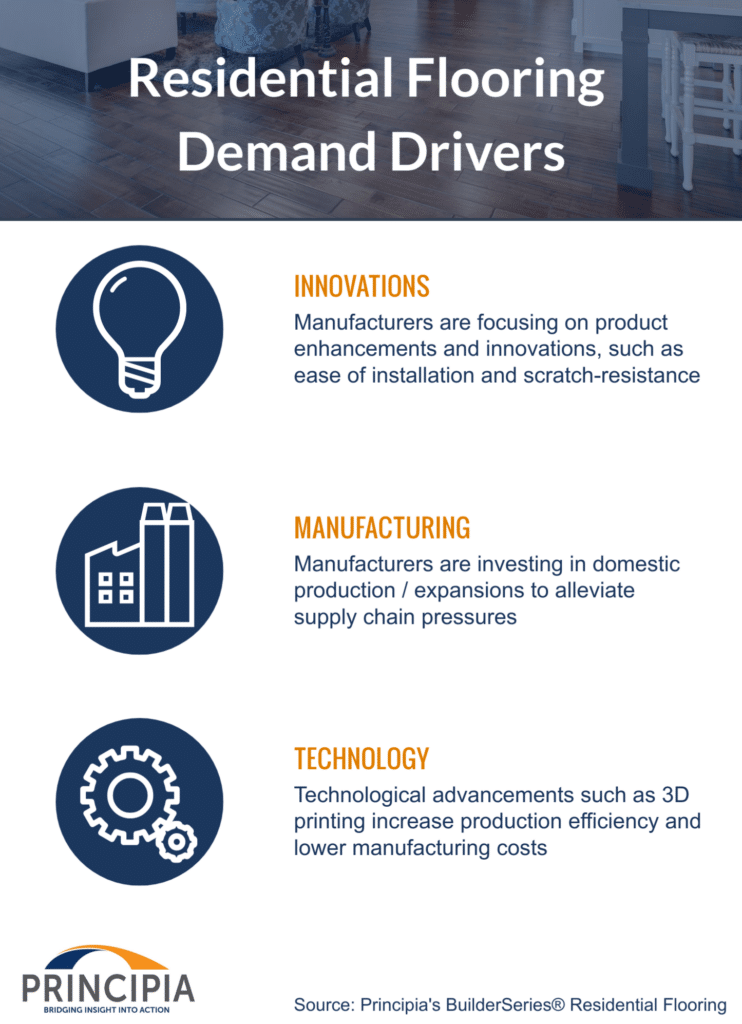 Key factors that will support flooring market demand through 2024 include:
Product enhancement and innovations such as improved designs, ease of installation, and performance-based attributes like water and scratch-resistance
Homeowners generally opting for hard surface flooring in the living areas of a home, carpet in bedrooms and upstairs hallways, and more water-resistant products in wet areas such as bathrooms and laundry rooms
Flooring manufacturers are investing in domestic production/expansions to help alleviate supply chain pressures and remain in closer proximity to product trends
Technological advancements such as 3D printing continue to gain traction to increase production efficiency and lower costs associated with the manufacturing process
A thriving R&R market pays big dividends for flooring
Residential flooring demand demonstrated strong volume growth of 12% from 2020 to 2021. Most activity occurred in single-family homes (83%). Carpet (42%) earned the plurality of orders, followed by resilient (29%), woods (16%), and naturals (14%).
Residential flooring demand expected to reach 16.6 billion square feet in 2024
Flooring volume will continue to grow over the next three years but nowhere near 2020-21 levels, in large part to a slowdown in new homebuilding. Annual mid-single digit growth in R&R activity, however, will offset some of that deceleration, with lower cyclicality and high home equity and cash balances leading the list of key causes.
An uptick in R&R will help offset diminished new construction starts
While new construction boomed in 2021, it is expected to decline through 2024 with R&R accounting for all incremental demand, net of the contraction in new construction. Flooring is driven by the R&R side of the market and flooring projects are a good way to recoup remodeling costs.
Download the table of contents and list of figures for the written portion of our flooring demand product line up. For a full demo of our interactive portal or to inquire about the cost to purchase data please email Sales@principiaconsulting.com