Featuring in-depth data and insights backed by primary research–available in PDF, Excel and our interactive portal.
U.S. residential roofing demand saw a 4% increase in volume from 2020 to 2021 from 169 million squares to 176 million squares, largely driven by robust repair and remodeling (R&R) activity as well as new construction. Roofing is less dependent on new construction and therefore won't be as affected as other categories when new construction starts to fade over the next few years. Therefore, modest growth is expected through 2024.
Key factors that will support roofing market demand through 2024 include: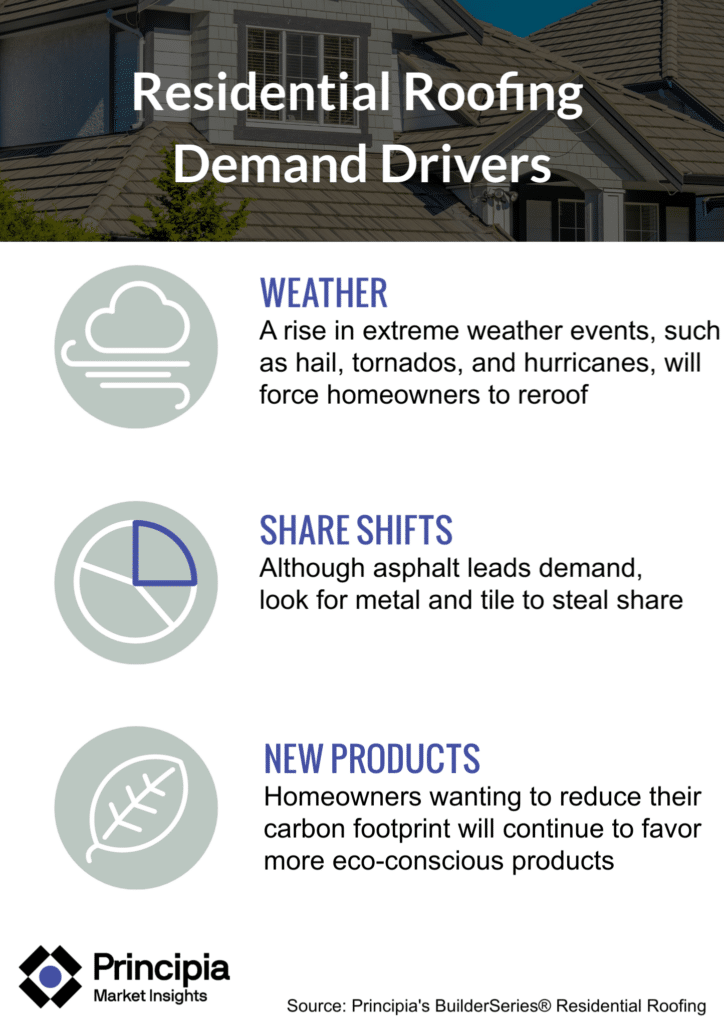 The National Oceanic and Atmospheric Administration predicts 14-21 named storms and 6-10 hurricanes in 2022. Spring hail and tornado activity plus wildfires in California are evidence of a rise in extreme weather events. Extreme weather will force many homeowners to reroof.
Although asphalt will continue to dominate as the preeminent roofing material, look for metal and tile to steal share.
Homeowners looking to reduce their carbon footprint will continue to favor more eco-conscious products featuring post-consumer and post-industrial recycled content in new product formulations.
Roofing demand is forecast to grow 2% through 2024
Roofing market demand is projected to grow 2% by volume through 2024. A decline from 4% in 2021 to 2% over the next three years is due, in large part, to the expected contraction in new construction, which accounted for about one-fifth of residential roofing demand in 2021.
Asphalt leads the roofing market, but metal is emerging
Asphalt remains the top roofing material and will remain as it's easy to install and a cost-effective choice. The product owns 85% of the market by volume, although metal is making its presence known. Most roofing jobs occur on single family homes (90%) with the Southwest (16%) accounting for the lion's share.
Roofing prices jump 11% from 2020 to 2021
Rising raw material, labor, and transportation costs forced suppliers to increase their prices, up $8.72 per square at the net manufacturer revenue level from 2020 to 2021. The biggest bumps came from wood, asphalt, and metal.
Download the table of contents and list of figures for a review of our roofing demand product line-up. For a full demo of our interactive portal or to inquire about the cost to purchase data please email Sales@principiaconsulting.com