Featuring in-depth data and insights backed by primary research – available in PDF, Excel and our interactive portal.
Robust new construction activity was the primary driver of residential insulation demand growth in 2021. Insulation demand grew from 5.2 billion pounds in 2020 to 5.5 billion pounds in 2021, a growth rate of almost 7% by volume. Nearly three-quarters of insulation demand in 2021 was from the construction of new single family homes.
Key factors that will support insulation market demand through 2024 include:
Move towards easy-to-install insulation, such as softer fiberglass products, will help address labor shortages
Preference for sustainable materials by conscientious energy-efficient homeowners
Homebuying frenzy over the past two years was driven by purchases of older homes, most likely containing inadequate insulation and purchased without inspection. Moisture and heat loss issues requiring mitigation will become more evident leading to increased demand for insulation and weather resistant barriers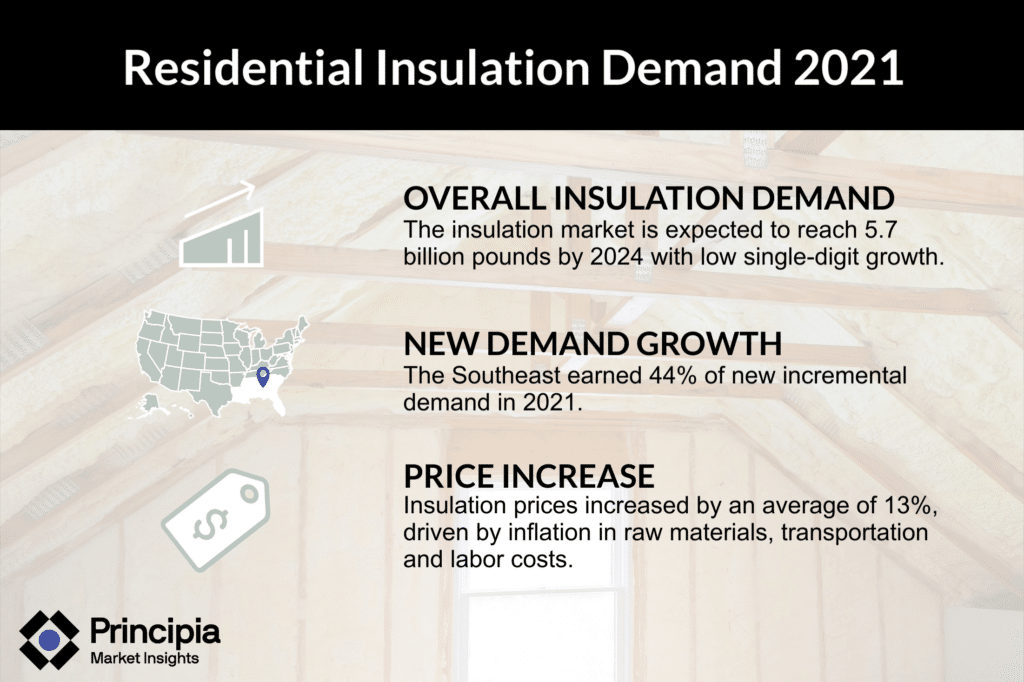 2021 brought heavy growth for the South
The Southeast earned 44% of new incremental demand in 2021, growing nearly 3 percentage points faster than the national average. Southwest grew nearly as fast as the Southeast. These two regions accounted for 53% of the new privately owned housing units authorized by building permits in 2021.
Insulation prices reached extraordinary levels in 2021
Driven by inflation in raw materials, transportation and labor costs, insulation prices increased by an average of 13%. Price increases in 2021 (along with strong volume growth) led to significant expansion of the overall market value.

Insulation demand expected to reach 5.7 billion pounds in 2024
Unlike recent growth in the insulation category, lack of new construction starts will impact insulation demand growth over the next three years. It is projected that the market will achieve only minimal low single-digit growth in that time. Significant demand growth in repair and remodeling over the next two years will mitigate the effects of a projected contraction in demand from new construction. Homeowners with record high home equity will stay in place and expand and remodel to meet changing needs. Homeowners will invest in insulation to save money as energy costs rise, increase comfort as temperature extremes accelerate, and improve soundproofing with more people working from home.
Download the table of contents and list of figures for the written portion of our insulation demand product line up. For a full demo of our interactive portal or to inquire about the cost to purchase data please email Sales@principiaconsulting.com