Featuring in-depth data and insights backed by primary research –available in PDF, Excel and our interactive portal.
As residential new construction starts reached its highest level since 2006 and the repair and remodeling (R&R) market thrived, demand for windows prospered in 2021. It's expected that the recent trajectory of windows won't repeat over the next three years, but growth will remain solid.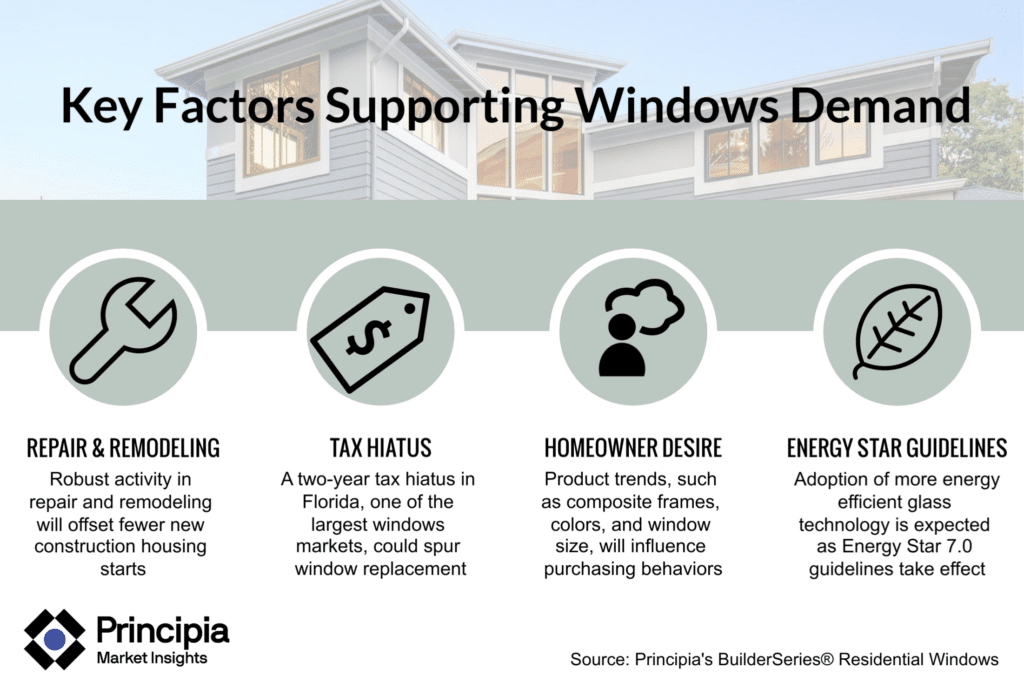 Key factors that will impact window market demand through 2024 include:
Robust activity in R&R—particularly among aging homes—will help offset fewer new construction starts
A two-year sales tax hiatus on home-hardening products began in mid-2022 in Florida, one of the nation's biggest windows markets, which likely could spur window replacement
Product trends, such as an upsurge in composite frames, bold colors, and bigger windows, will influence purchasing behaviors around product design
Lastly, the recently passed Inflation Reduction Act includes modest tax incentives for homeowners replacing window and doors to improve home energy efficiency
As Energy Star 7.0 guidelines take effect, adoption of more energy efficient glass technology is expected. This will increase the cost of manufacturing and window prices, which could dampen demand. However, better energy performance addresses a top-listed homeowner desire and would likely encourage window replacement.
Residential windows demand will achieve modest growth over the next three years
Windows demand grew 9% by volume from 2020 to 2021 largely driven by a prosperous new construction market. The category will be impacted over the next three years as new construction slows, particularly since this segment of the market accounts for nearly half of all residential windows. Overall windows demand volume is projected to experience low-single digit growth through 2024, primarily supported by the R&R market.
Vinyl remains the dominant windows material
Nearly seven in 10 new windows feature vinyl frames, with wood and clad wood representing a distant second. Single family residences are responsible for 80% of windows demand, with the South census region accounting for almost half of the volume.
Windows manufacturers faced supply and labor shortages in 2021
Few construction categories were immune from pandemic-related supply chain issues, and the residential windows market fared worse than most. Faced with raw material shortages, transportation bottlenecks, and labor shortages, the national average selling price (ASP) at the net manufacturer level surged from $275 per window in 2020 to $310 in 2021. Window lead times have notably improved in 2022 although, may suffer a setback from late August flash flooding in the Southeast adversely impacting PVC resin production.
Download the table of contents and list of figures for the written portion of our windows demand product line up. For a full demo of our interactive portal or to inquire about the cost to purchase data please email Sales@principiaconsulting.com