Featuring in-depth data and insights backed by primary research—available in PDF, Excel, and our interactive portal.
Record new construction activity led to 5% volume growth volume in doors demand from 2020 to 2021 (from 48.7 million units to 51.3 million exterior, interior, and patio doors). Repair and remodeling (R&R) demand will fuel growth in the doors category through 2024.
Key factors that will support doors market demand through 2024 include:
R&R demand will post mid-single digit growth through 2024, providing the doors market a much needed boost to help offset fewer new construction starts
Fiberglass entry doors are expected to experience the highest growth and will gain market share through 2024
A continuing trend of installed patio doors serving to integrate indoor living spaces with outside areas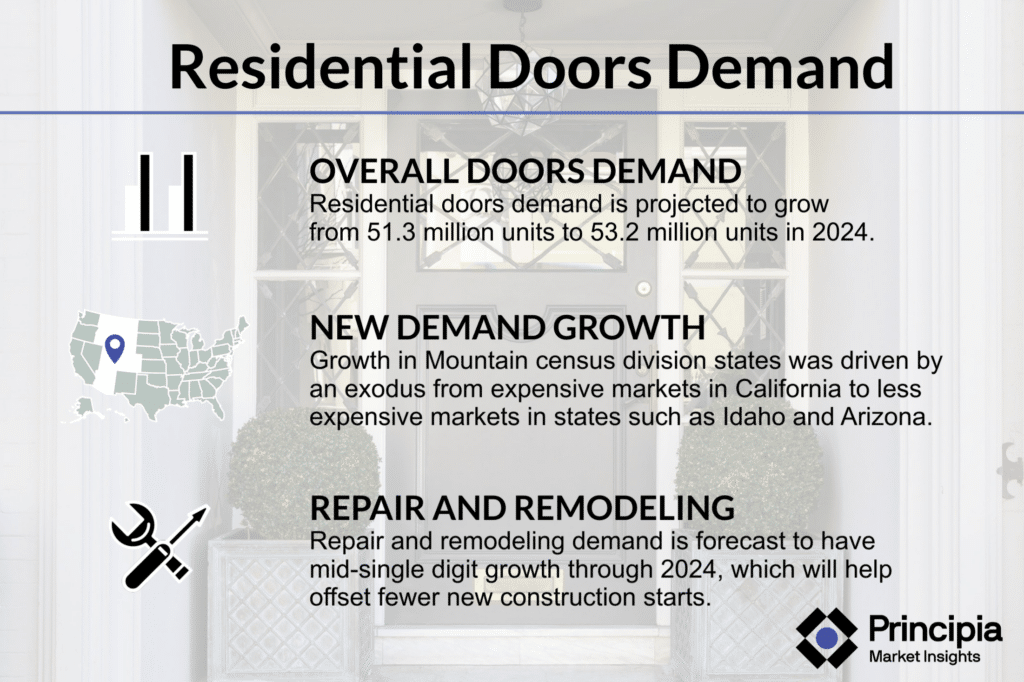 Doors demand will achieve limited growth through 2024
As new construction activity slows, doors demand will also slow over the next few years. Residential doors demand is projected to grow from 51.3 million units to 53.2 million units in 2024, a 1% increase by volume. In 2021, interior doors accounted for most of the market (68%), with entry (21%) and patio doors (11%) representing the balance of demand.
New construction in Southern and Western states drove growth in 2021
Pandemic-induced homebuying surge, coupled with a historic housing shortage, helped drive demand for new construction—and, consequently, doors demand for new homes. New construction demand took precedence over the R&R market, which led to a slight dip in units for R&R from 2020 to 2021. Growth was strongest in the populous Southeastern states. Mountain census division states also saw strong growth driven by an exodus from expensive, higher density markets in California to less expensive, lower density markets in states such as Idaho and Arizona.
Pricing for doors gets a double-digit hike amid inflation woes
The average price per door increased by 13% from 2020 to 2021 following a surge of input costs. Consequently, double-digit price growth led to notable expansion of the overall doors market value, up 19% in 2021.
Download the table of contents and list of figures for the written portion of our doors demand product line up. For a full demo of our interactive portal or to inquire about the cost to purchase data please email sales@principiaconsulting.com