Featuring in-depth data and insights backed by primary research – available in PDF, Excel, and our interactive portal.
A surge in new construction starts paid big dividends for residential plumbing fittings and fixtures demand, with more than 14% volume growth from 2020-2021. This robust growth isn't expected to achieve the same levels over the next few years, as new construction housing starts begin to recede heading into 2024.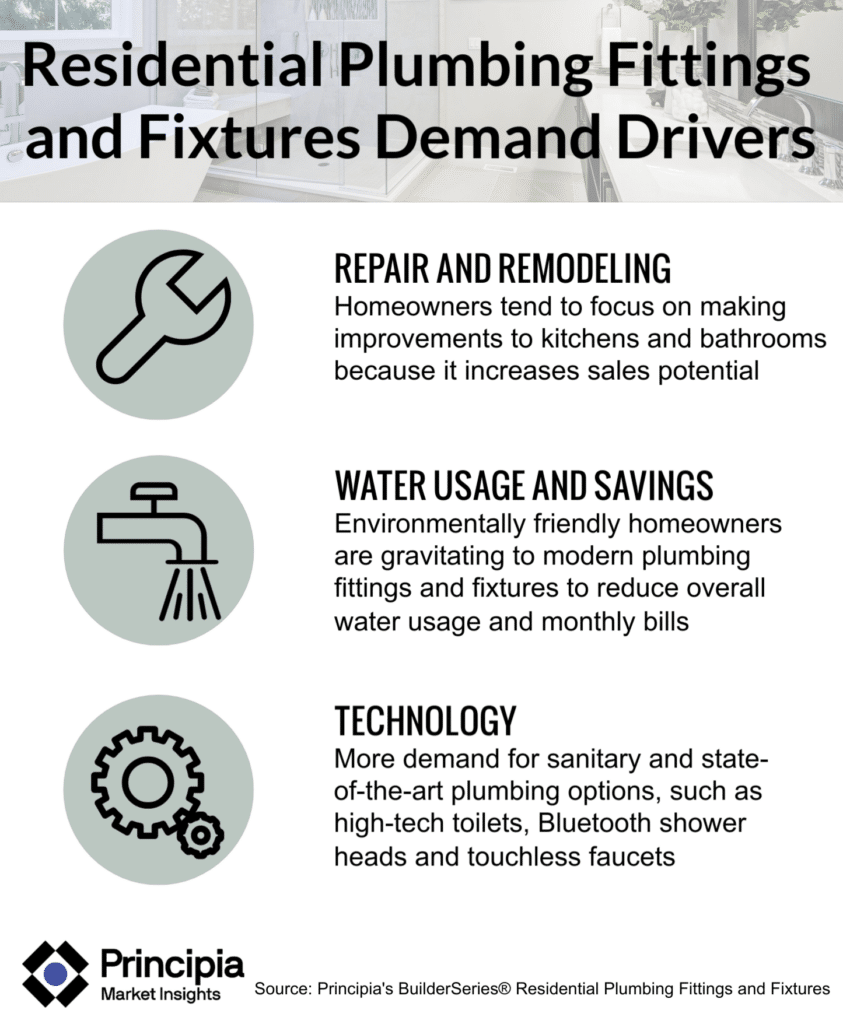 Key factors that will impact plumbing fittings and fixtures demand through 2024 include:
An uptick in repair and remodeling (R&R) demand will help offset losses accrued from fewer new-construction jobs
Homeowners tend to focus on making improvements to kitchens and bathrooms more so than other interior spaces, often because it increases sales potential, which bodes well for this category
Environmentally friendly homeowners are gravitating to more modern plumbing fittings and fixtures to help them reduce overall water usage and monthly bills
Increased demand for more sanitary and state-of-the-art plumbing fittings and fixtures options, such as high-tech toilets, Bluetooth shower heads and touchless faucets
Residential plumbing fittings and fixtures demand achieved double-digit growth in 2021
A strong new construction market helped drive plumbing fittings and fixtures 10% growth by volume overall from 2020 to 2021. Plumbing fittings and fixtures will achieve 2% growth by volume through 2024 with R&R activity projected to account for 87% of volume by 2024.
Demand concentration
About two-thirds of residential plumbing demand is represented by plumbing fittings, while plumbing fixtures accounted for 35% of volume in 2021. Nearly four in five projects are completed in single family homes. The South encompasses 42% of overall activity with regional parity across other regions..
Prices of plumbing fittings and fixtures rose dramatically
The residential plumbing fittings and fixtures market was a casualty of supply chain issues, labor shortages, and other pandemic-related bottlenecks over the past couple of years. The myriad headwinds forced an escalation in prices from $99.81 per unit in 2020 to $108.29 per unit, an average increase of 9%. Historically, most materials in this category are sourced from China, which has encouraged more manufacturers to more recently identify alternative suppliers to help address supply shortages.
Download the table of contents and list of figures for the written portion of our plumbing fittings and fixtures demand product line up. For a full demo of our interactive portal or to inquire about the cost to purchase data please email sales@principiaconsulting.com