We've no doubt all heard the expression "home is where the heart is." But what gives homes heart is our ability to transform them from functional structures into dens of expression. And while what goes on inside homes is usually fair game for homeowners, exteriors are oftentimes more closely controlled. Twenty percent of respondents to Principia's latest homeowner surveys said they live in a community that has placed restrictions on the type of building products they can choose, and these restrictions impact several building materials. Homeowners Associations (HOA) are typically behind measures that mandate uniformity around certain communities.
One quarter of the U.S. population currently lives in a community association, according to the Community Association Institute. These restrictions mean, for example, that a homeowner isn't permitted to go rogue and change the color of their front door or replace vinyl siding with natural wood siding without approval from the HOA. Across roofing, siding/ exterior trim, decking/ railing, windows/ patio doors and entry doors, over 80% of Principia survey respondents encountering restrictions named an HOA as the entity imposing the restrictions, compared to restrictions placed by city, town, or other municipal authority, or National or State Register of Historic Places.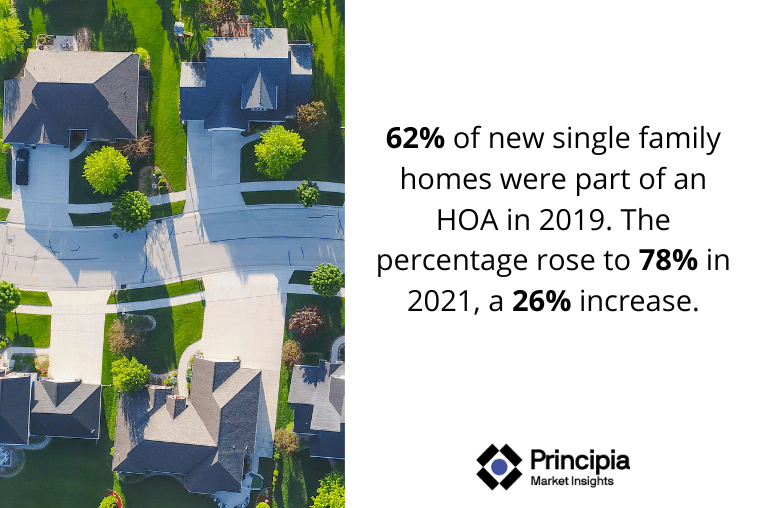 The primary reason why HOAs micromanage exteriors is because builders—those that establish HOAs—want the look of an entire community to remain consistent until all properties are sold. Getting an HOA to change covenants, conditions, and restrictions (CC&Rs) that would enable homeowners to amend approved exterior products is difficult, if not impossible, because it requires a vote by a majority of homeowners in the community to agree to modifying these CC&Rs.
While HOAs have existed for more than a century, in recent years we've seen an uptick in the number of homes governed by them. In 2009, 62% of single-family homes built for sale were in an HOA which rose to 78% in 2021, an increase of 26%. The increase in homes managed by HOAs can at least be partly attributed to builders scooping up large swaths of land amid the recent new construction boom and turning them into communities with uniform aesthetics.
Manufacturers have an opportunity to nurture their builder programs to improve the probability that their products will be selected by the builder at the time of construction and become entrenched in community CC&Rs. Since CC&Rs define acceptable repair and replacement products for exteriors in perpetuity short of any amendment, opportunities for future product sales extend beyond the new construction cycle.
Ensuring suppliers have the right value proposition in their builder programs is imperative in a competitive and changing market. Suppliers can rely on Principia's proven track record of optimizing material and brand positioning and exploring new approaches for success in builder programs.