Featuring in-depth data and insights backed by primary research — now available in PDF, Excel and our interactive portal.
As single-family new construction slowed in 2022, so did U.S. residential countertops demand. This downward trend is expected to continue in 2023 before regaining strength in 2024. For now, expect demand to come from a robust repair and remodeling (R&R) market.
Key factors that will support countertop market demand through 2025 include:
New construction growth of 3.7%, well outpacing R&R growth of 0.3%
Single family growth of 1.5% through 2025—50% more than multifamily volume
Homeowners gravitating toward higher-end materials (e.g., quartz) that are more durable, lower maintenance and last longer
Common knowledge that the aesthetics of the kitchen and bathrooms—both rooms that require countertops—are big purchase drivers for new-home shoppers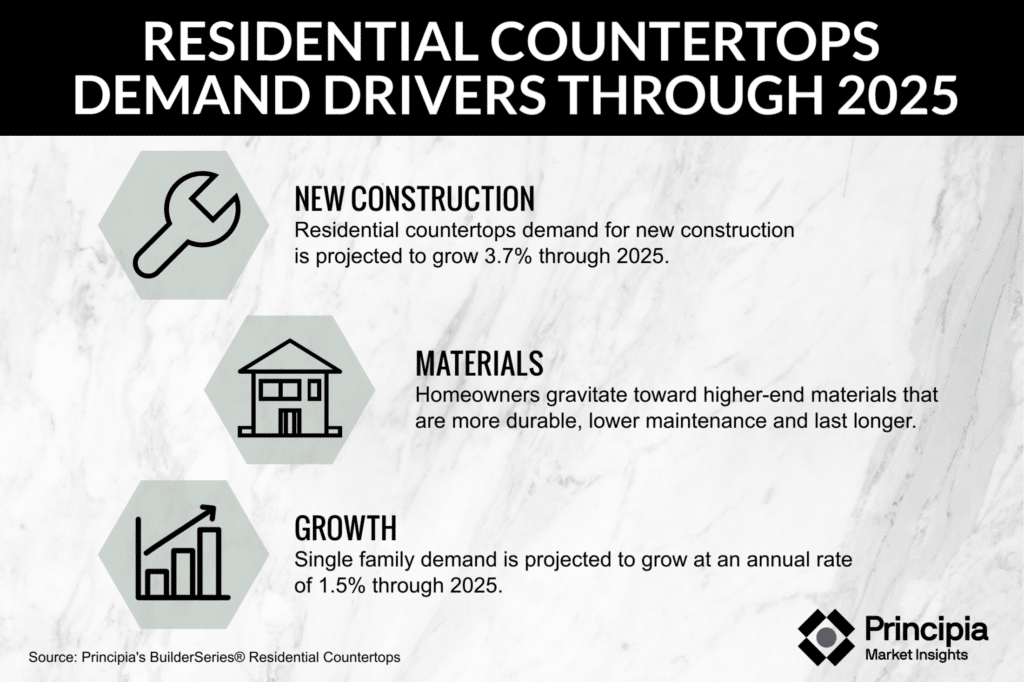 R&R activity helped offset a downturn in single-family new construction
Countertops volume totaled more than 523 million square feet in 2022 driven by double-digit growth in multifamily volume, especially in the Midwest. Quartz earned the biggest share of the market, with granite and laminate figuring in prominently as well.
Quartz expected to weather slowdown in single family construction
Although all countertop materials are expected to hit speedbumps in 2023, look for a strong rebound in 2024 as new construction ramps back up. Quartz will lead the way with 4% annual growth through 2025 and will be less impacted by the slowdown in single-family new construction as compared to other countertop materials. Conversely, granite will take a steep double-digit dip in 2023, before righting the ship in 2024. Tile and wood will experience declines through 2025, while laminate will pick up some slack among more cost-conscious homeowners.
The South and West will drive category growth through 2025
While the Midwest and Northeast are poised to lose share of national demand through 2025, the Southwest, Southeast and West will help minimize potential losses as single-family construction is expected to return to form in 2024 and 2025. The Southwest is the only region expected to see volume and net manufacturer revenue surpass 2022 numbers in both 2024 and 2025, although the Southwest remains far behind the Southeast across both metrics.
Download the table of contents and list of figures for the written portion of our countertop demand product line up. For a full demo of our interactive portal or to inquire about the cost to purchase data please email sales@principiaconsulting.com.