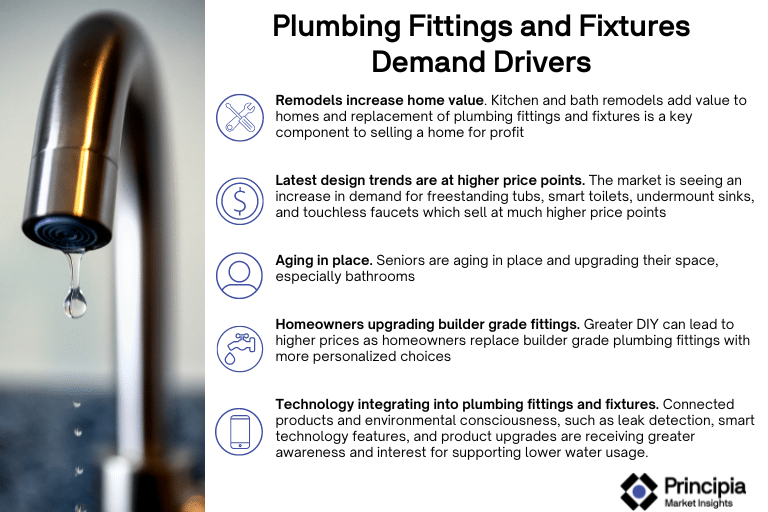 Despite the Challenging Housing Environment 5 Factors are Influencing Price
Residential plumbing fittings and fixtures market demand in the U.S. was negatively impacted in the back half of 2022 by the rapid rise in interest rates which impacted home affordability. The softened volumes induced channel partners to destock and alter their inventory strategies towards the close of 2022. Product destocking so far has occurred more readily within wholesale channels as compared to retail.
Even as volumes continue to experience headwinds in 2023, pricing has remained steady, with many manufacturers realizing price gains due to continued inflation and higher raw material costs. Principia's recent voice of customer research supports this view about price. In a survey of plumbing supply dealers across the country, 80% agreed that price increases should be expected in 2023. Additionally, in Principia's recent survey of homeowners, respondents indicated a willingness to pay a higher price for a desired brand and product finish even if the price is above their original expectations, particularly most prevalent in kitchen-related products.
Secular trends and tailwinds to price that Principia has observed include:
Remodels increase home value. Kitchen and bath remodels add value to your home, remodeling spend has grown significantly and, replacement of plumbing fittings and fixtures is a key component to selling a home for profit
Latest design trends are at higher price points. An increase in demand for freestanding tubs, smart toilets, and undermount sinks, touchless faucets which sell at much higher price points
Aging in place. Seniors are aging in place and upgrading their space, especially bathrooms
Homeowners upgrading builder grade fittings. Greater DIY can lead to higher prices as homeowners replace builder grade plumbing fittings with more personalized choices
Technology integrating into plumbing fittings and fixtures. Connected products and environmental consciousness, such as leak detection, smart technology features, and product upgrades are receiving greater awareness and interest for supporting lower water usage