In a pre-pandemic world, prospective homebuyers had the luxury of playing the field. Prospective buyers could take their time shopping and make the occasional lowball offer if they saw something they really liked. Nowadays it's sellers who are living the American Dream. In 2021, the average home sold for $453,700—a 16% increase from only a year earlier. Not only has the housing market become significantly more competitive, but many new homeowners aren't bothering to tour their future homes before buying them. In fact, a 2021 Zillow Survey revealed that three in five Millennials would be comfortable making an offer on a home based only on a virtual tour.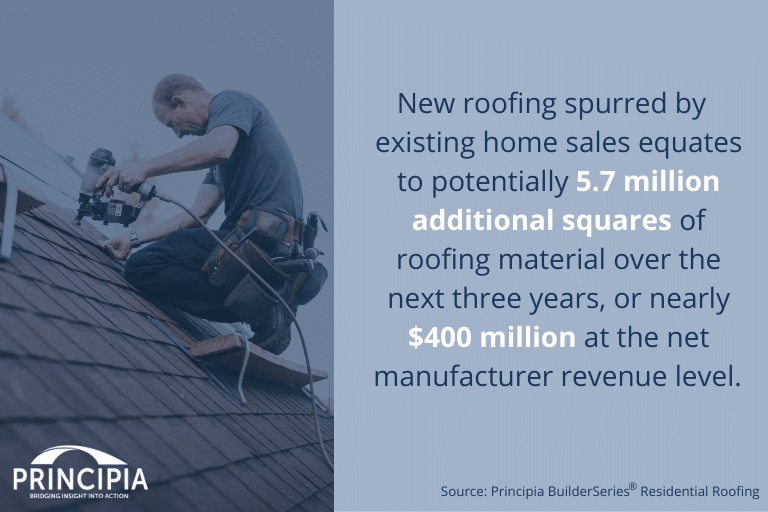 All this means sellers have less motivation to fix up their homes before putting them on the market, knowing they can get maximum value for their residences with little effort. In fact, data from the National Association of Realtors 2021 Profile of Home Buyers and Home Sellers revealed that just 26% of sellers offered incentives to attract buyers in 2021—down from 46% the previous year.
At the same time, new homeowners—perhaps realizing sellers have stopped going the extra mile to make their homes more presentable—have stepped up renovations on their end. Data from Principia's 2021 Homeowner Survey reveals that 13% of homeowners were motivated to undertake a roofing project two years earlier than the average homeowner because of the purchase or sale of a home, a 550% increase from only two years earlier. This surge in new roofing spurred by existing home sales could equate to as much as 5.7 million additional squares of roofing material demand in the United States over the next three years, or nearly $400 million at the net manufacturer revenue level.
Manufacturers and one-steppers currently equip contractors with identifying reroofing opportunities based on potential demand created by aiming where new homes were built 20 years ago and likely ready for a roof replacement or reacting quickly to severe weather events where new replacement roofs are needed. That will remain a core strategy, especially from normal replacement cycles and as disruptive weather patterns continue. Manufacturers can also support their pro contractors by equipping them with information on existing home sales so they can call on these homebuyers to sell a new roof. Principia has a unique understanding of homeowner segments and their motivations around remodeling and replacement projects through our custom and syndicated research capabilities. Contact us today to learn more.