In the home, smart technology spans smart security systems, thermostats and lighting, and even smart refrigerators. There's no ignoring the coming impact and proliferation of more products that possess "smart" attributes. Take windows for example.
Smart-window technology centers around smart glass surface and smart window controls. Smart glass is glass or glazing with light transmission properties that dynamically alter the passage of sunlight into buildings. Automatic shading, tinting and/or frosting of the smart glass allows for greater energy efficiency, as well as privacy for homeowners. Remote sensing and control, too, enable integration into existing smart-home hubs, so they work in conjunction with smart thermostats and motorized blinds and shades, among other related smart-home products.
While smart windows may not yet garner the same headlines that other smart products do, continued advances in this category are bringing costs down, which will encourage wider adoption in the residential market. Manufacturers are developing a growing menu of offerings, such as photovoltaic energy generation, sensing technology and integration with smart home hubs. And they can afford to widen their product offering as awareness and interest increases among end users.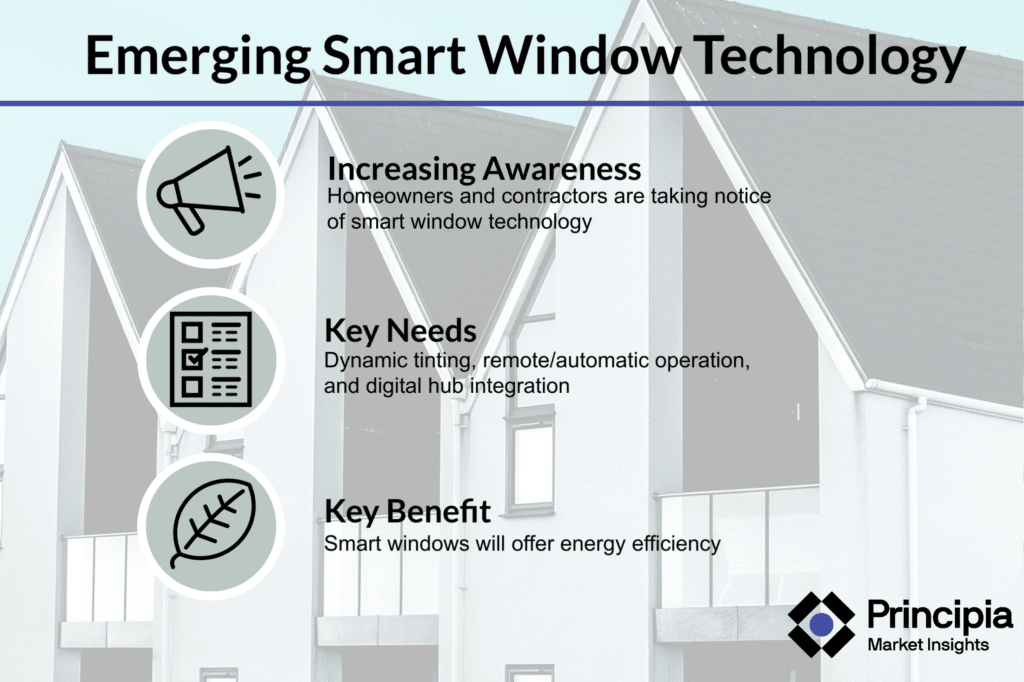 Principia's research revealed that 25% of windows contractors mentioned smart windows when asked about needed product innovation in the window industry. Contractors specifically suggested remote opening, rain-sensing and auto-closing as needed innovation, stating "smart windows that could manage the amount of light and warmth required in the room", and "windows that also work as solar panels and generate energy." Contractors also pointed out that smart windows are most viable if fully integrated with the digital hub providing remote access, are easy-to-install, and homeowner budget friendly.
According to Principia's homeowner survey findings, one in seven homeowners with a recent window replacement project reported having smart products installed, such as windows with any special features, such as specialized glass, Bluetooth connectivity, integrated blinds, or security features. When asked to name the biggest benefit of smart windows, these same homeowners reported that the reduced energy consumption was the top reason; security was second.
Manufacturers should be thinking about how to advance their product offerings to meet homeowner desire and address contractor need for simple installation. Smart windows are coming. Principia supports product innovation through custom research; contact us today to learn more.