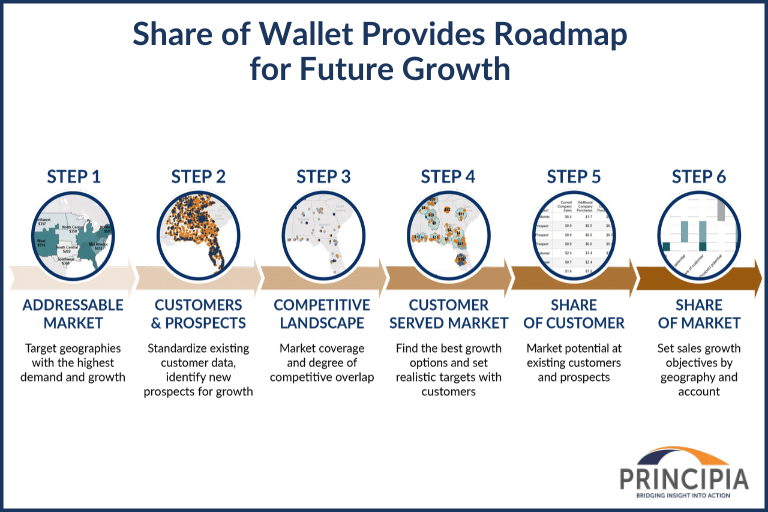 Growing revenue faster than the market is a key to your overall company success. Share of wallet tends to be underutilized at most companies resulting in major blind spots with respect to growth opportunities. Companies have a strong understanding of current customer sales which can result in the danger of "what you see is all there is", but also have limited view on a customer's total purchases (not just what you sell) and even lesser view on sales prospects (non-customers). Market share is a key metric of business performance but often is viewed in the aggregate, not on a regional or territory basis.
A formalized share of wallet strategy builds understanding of new customer and territory opportunities and highlights:
Where are the best opportunities for growth?
What companies are the best opportunities to increase share of customer?
Which companies represent the best prospects for sales?
A share of wallet strategy leverages our proprietary category-specific supply and demand data products with your sales and customer data to drive sales with a roadmap for growth. DemandBuilder® provides accurate data and supporting analytics to measure product demand, determine current share, and forecast sales potential by market and region. SupplyBuilder® delivers a channel view of supplier share and product by region, integrated with a robust database of nearly 50,000 U.S. distribution points covering all channel outlets.
The phased program delivers a comprehensive share of wallet analysis identifying key regions, territories, customers, and prospects to target for profitable growth through a progressive series of steps. This data-driven approach delivers strategic and tactical plans to increase customer and market share based on detailed customer metrics in each territory, and enables a range of initiatives including:
Improve your sales coverage through more efficient resource deployment
Segment the customer base according to value and share of customer
Adjust and change your channel model to extend market reach
Map a customer-driven sales growth plan now and going forward
Create a more in-depth customer profile to support CRM
For more information on how a share of wallet strategy based on DemandBuilder® and SupplyBuilder® can support your sales growth initiatives and how we can assist, please contact us at 610-363-7815 or info@principiaconsulting.com.