Inventory levels at building materials dealers have reached the lowest levels since the peak of the housing bubble in 2006. This trough is primarily a result of reduced staff in factories or shutdowns due to COVID-19 precautions. The decreased production eventually made its way downstream and impacted inventory available to dealers. Simultaneously, the demand for building materials has remained strong, with monthly retail sales peaking at over $60 billion in early 2020.
As shown in Figure 1, the ratio of inventories to sales has plummeted since the start of COVID-19 to 1.54 in May 2020 while retail inventories have mostly remained strong at just over $57 billion in the same month. These diverging trends shows the extreme demand for goods from building materials dealers.
Figure 1: Inventory/Sales and Retail Inventories, 2003-2020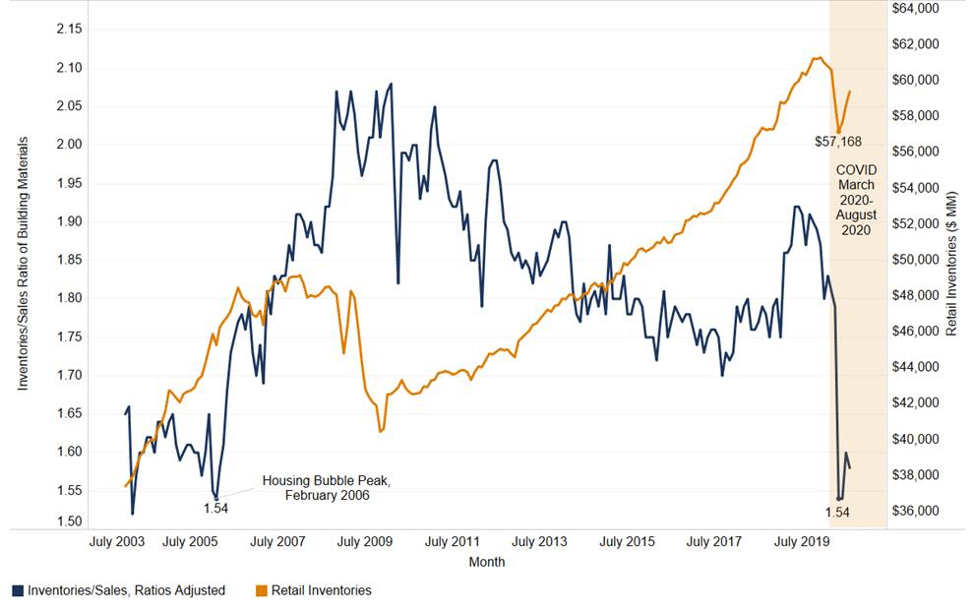 During the same period, the seasonally adjusted sales growth has outpaced the growth of inventory levels. It is not surprising that there has been an increase in prices for building materials considering the decreased supply and increased demand. The Producer Price Index for Construction Materials briefly dropped in May 2020 to 233 before climbing to a record high of 246 in September 2020 as shown in Figure 2.
Figure 2: Inventory/Sales and PPI, January 2017-July 2020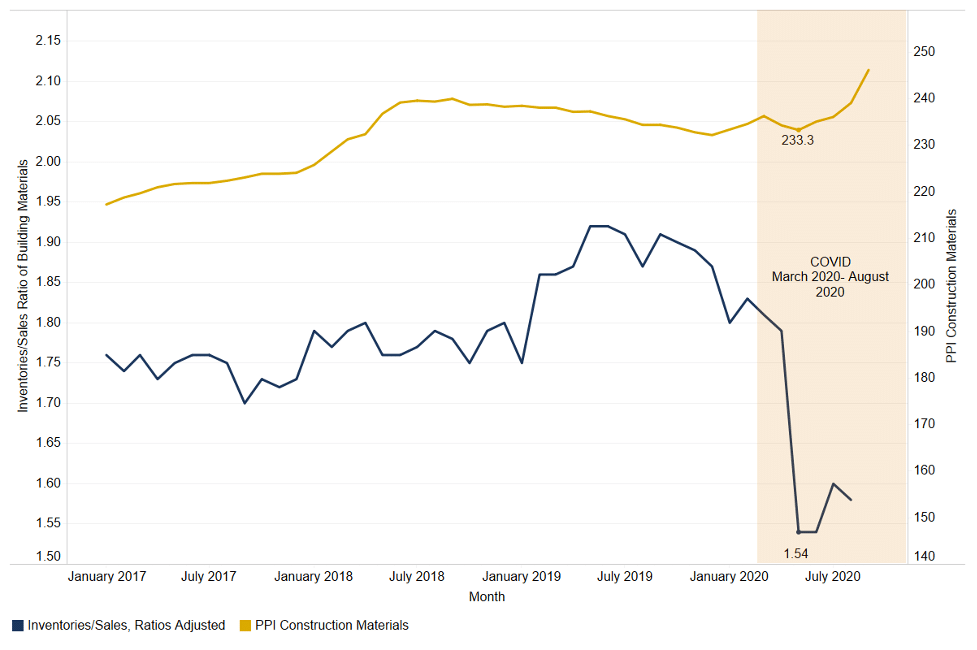 New construction and homeowner demand for renovation projects are expected to strong through the winter months, at a time when demand would traditionally decrease. This scenario, coupled with increasing precautions as COVID-19 cases continue to rise, will stretch dealer inventories even further. Product manufacturers and dealers are faced with improving product availability to relieve the pressure resulting in reduced product choices, increased lead times, and higher prices. The effects on slow reaction to managing these supply chain dynamics could lead to costly increases for homes and buildings as well as forcing homeowners to delay or opt out of discretionary R&R projects.
For more information about building materials demand and supply, contact us today.